Men's wrestling strives to improve for Sectionals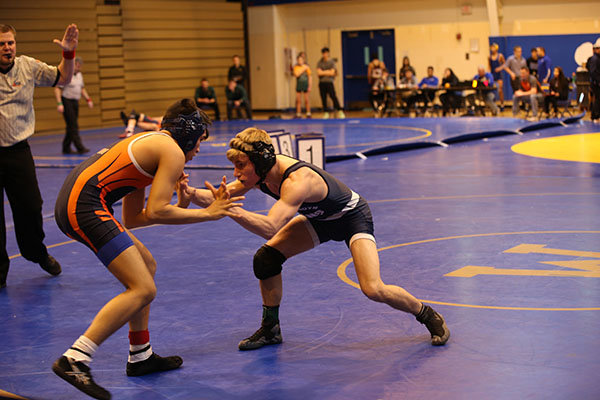 Glenbrook South's men's wrestling team placed fifth at the IHSA Regionals on Feb. 4 and hopes to make it to IHSA Sectionals on Feb. 10. According to senior wrestler Daniel Provich, he is looking to help the team in a big way after placing third in the Central Suburban League Conference Tournament.
Provich has wrestled for GBS since freshman year and competes in the 152 pound weight class. Provich is looking forward to Sectionals, and hopes to achieve some of his personal and team goals for this season.
"I had two big goals going into the season, [one goal being] to go all-conference and make it to state," Provach said. "As a team, a goal of ours is to make it to Sectionals."
After the Titans finished with a 2-3 Conference record, their performance in Regionals decided the team's advancement to Sectionals. According to Provich, moving on to Sectionals was a difficult task, but his optimism and leadership  allowed the team to preform well. He also believes that he can achieve his goal of going all-conference because of his performance in the CSL Conference Tournament.
Head coach Pat Castillo has recently taken over as head of the program. He said he came into this year with the goal to help the team as a whole improve.
"The main goal is just to keep on improving and getting better for every individual and overall as a team," Castillo said.
According to Provich, Castillo has built up solid relationships with each of his wrestlers, which allows them to establish a good bond. Provich believes that Castillo has been as much of a friend as he was a coach this year, supporting him individually and the team as a whole. Castillo has gotten to know some of the wrestlers because he was able to spend time working with them while he was the assistant coach.
"Building relationships with students and getting to know them more personally are my best memories," Castillo said.
Earlier in the season, the Titans hosted the 52nd Annual Russ Erb Invitational that consisted of 19 teams with highly ranked individuals competing. According to Castillo, this tournament usually brings very good competition, and this year it was the toughest tournament to play in because of the impressive wrestlers. The Titans were unable to secure any first place finishes, but senior Ethan Bond placed third in his weight class.
"Right now, [the wrestlers] having the most successful year would be Ethan Bond, who wrestles [the] 132 [weight class], and Daniel Provich, who wrestles [the] 152 [weight class]," Castillo said.
According to Castillo, the team had great success in the Regional tournament, placing fifth out of nine teams overall.
"[Regionals] was a good team effort," Castillo said. "Everyone wrestled up to the best of their ability. We had five sectional qualifiers. Ethan Bond took second and then four other guys qualified that placed third."
The Titans will be competing in Sectionals against players from other teams in the conference tonight, Feb. 10, and Saturday, Feb. 11. Castillo hopes to achieve his main goals for his team this season: for every individual to improve as a wrestler, and for the team as a whole to improve as well.