Men's Diving prepares for Conference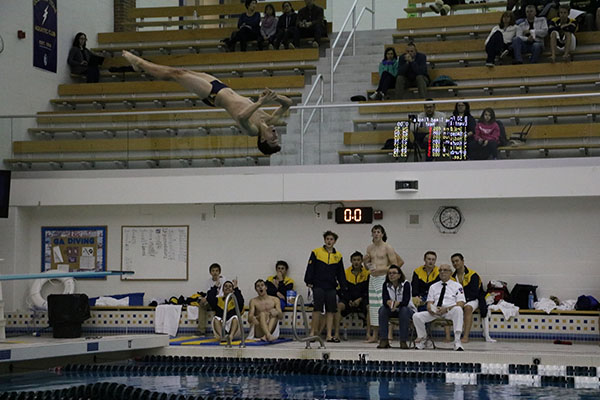 South's men's diving team has had a great season, according to head coach Laura Duffy,  with top scores of 220.45 and 156.95 by its two leaders, senior Brendan Fontillas and junior Jack Grier, according to Duffy.
The team has increased by four new divers this season. This rapid growth has affected the team in a very positive way, according to Fontillas.
"It makes it a better environment for the whole team, […] it's going to be a bright future for the diving team," Fontillas said.
The only two returning divers from last year's team are Fontillas and Grier, who both were pleasantly surprised at the sudden increase in divers.
"This was amazing. I did not expect to get four new divers […] Jack and I thought we would be the only ones this season," Fontillas said.
Laura Duffy has been coaching for 22 years and has never seen this sudden boost of teammates, according to Duffy. Both Duffy and Fontillas were happy to welcome the four newcomers, but still unsure of their reason.
"I have no clue where they came from, they just joined. […] All of it was really cool," Fontillas said.
Duffy stated her mutual excitement about how many boys were suddenly interested in South diving.   
"They never gave a reason, but it was all very exciting," Duffy said.
The four new freshman divers are Jonathan Celner, Danny Gemignani, Ethan Herbolsheimer, and Max Lason. They have developed skills that make South a stronger team, according to Fontillas.
"They all have a lot of potential […] all four will be on the all-conference board for sure," Fontillas said.
Duffy has seen the motivation between each individual diver and thinks this new change will be for the better.
"We have got a lot of new divers this year […] They have been working hard and have been doing a great job improving their skills," Duffy said.
The GBS team has learned many new dives in 10 weeks, which is difficult, Duffy believes. But, Duffy feels convinced the team will have the capability to reach its goals.
"I want to have all these divers be able to compete in the championship meet, which includes 11 dives […]  it's amazing and I am shocked with the development in all of them," Duffy said.
For most of these divers, the season will be over in two short weeks. According to Duffy, she thinks the boys will finish strong.
"I feel really confident that all of them will have 11 dives by the end of the season, and that does not always happen," Duffy said.
Duffy is especially proud to say that Fontillas will be doing great things at the state championship for himself and the GBS diving team.
"He has been doing what he needs to be doing all season long […] he has worked so hard during the offseason. He will be in great shape," Duffy said.
For South, the roster increase could not have been a bigger help for this year's season, as noted by Duffy and Fontillas. As in previous years, the diving team has had a great record, according to Duffy. The team is preparing for conference, which will take place on Feb. 11.