South grad continues diving career at Princeton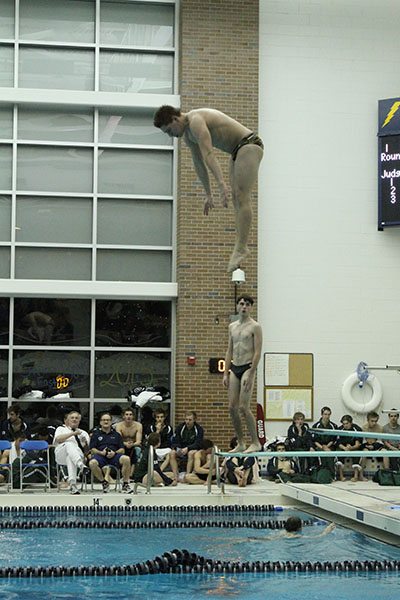 Aaron Ach looks to build on his high school success during his second year at Princeton. Ach now aims to set himself apart from his diving teammates at Princeton, according to Ach. Aaron Ach set himself apart from his diving teammates at South because of his willingness to improve, according to diving Coach Laura Duffy.
"Aaron was really easy to coach, he had good body control," Duffy said. "He was hungry, he wanted to do well."
Shortly before his high school career began, Ach had never stepped foot on the diving board. Ach, who was a competitive gymnast up until a serious injury during his eighth grade year, found an interest in diving when he first met Duffy, according to Ach.
Duffy said, "Aaron was a gymnast before he came into diving, he was looking for something to do that was a little different than gymnastics, we met during the spring of his eighth grade year and he decided that diving was something he wanted to do. He began diving club so he came in with some good fundamentals."
Soon after his high school career started, Ach set himself apart. Ach worked harder, cared more, and possessed a hunger that was non-existent among his diving teammates according to Duffy.
"Aaron's commitment to what he was doing in season and out of season set him apart," Duffy said. "His coachability also set him apart. There are a lot of kids who want to move their bodies in that way, but can't. With Aaron, there was a lot of trust upfront right away, he was all in. He bought in right away."
During his final season at South, Ach caught the attention of the Princeton diving team. After taking a recruiting trip, the decision to attend Princeton was an easy one, according to Ach.
"I took a recruiting trip during the fall of my senior year," Ach stated. "I immediately felt comfortable. I very quickly realized that I was were I should be."
Ach was drawn in by the strong bond that the team shared, making him feel welcomed and accepted, according to Ach.
"When I took my recruiting trip here, I was completely stunned on how cohesive the team was, and that is still very true to this day," Ach stated. "That was absolutely the most appealing thing that came into my decision of where I wanted to go to school."
Ach's collegiate career did not start off as expected, due to tough coaching and little chance to compete, according to Ach. However, Ach still worked hard and pushed to better himself, which has led to a fresh start for him.
"I do feel like a little bit of a freshman again this year," Ach said. "I have a completely new opportunity to reshape the rest of my time in college"
Entering his sophomore season at Princeton, Ach feels more comfortable and settled in with his coaches and training.
"I think that my new coach is more technically aware than my old coach was," Ach stated. "My new coach is a lot more consistent in his coaching than my old coach was. It feels much more of a cooperative effort between me, myself and my coach."
Ach was not given many opportunities to compete in  meets during his freshman season. Ach believes that he will have more chances to show off his skills on the diving board this year.
"I do believe that more competitive meets are in my future this year," Ach said. "I think the really cool thing about being on a smaller team is that we are all competing for the same spots to compete at these more high pressure competitions."
Ach believes that his team as a whole has a chance to compete at the Ivy League championships.
"Our goals as a team are definitely set at the Ivy League championships," Ach said. "I think that we have a little bit more of a hill to climb because we a have less depth. If we really want to go for the win, we have to bring everything we've got to practice. We have to work exceptionally hard to realize our goals."
After a rocky start to his Collegiate career, Ach hopes to make a splash during his sophomore season at Princeton.