Men's waterpolo loses undefeated record after falling to New Trier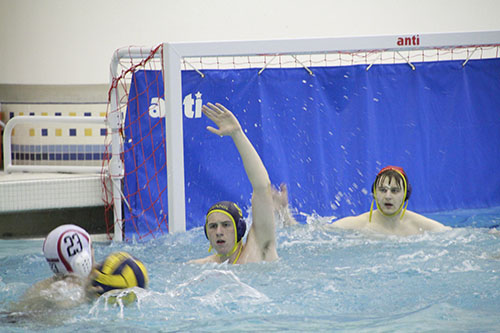 On March 23, the men's water polo team moved up from seventh place to fifth place in State after beating Loyola who was previously ranked fifth in the State. Currently, the team is back in seventh place. The team's goal of a State championship seems more in reach than ever, according to Senior Captain Peter Dales.
A big reason for the Titans' success is the amount of team chemistry and communication, according to Dales.
"A lot of guys on the team played in the offseason together," Dales said. "We have grown to understand how everybody plays with each other."
The strong team chemistry has led the Titans to a 16-3 record and a current ranking of seventh in the State according to Dales.
The Titans had a mindset solely focused on the Loyola game. The Titans strong goaltending and defense helped propel them to a 6-3 victory, according to Head Coach David Lieberman.
Another big factor in the Titans' success is the improved play of many younger players, according to Dales. The young players that contribute to the team's success include sophomore Brendan Chang, junior Jack Wells, and junior Tucker Nienhaus, according to Dales.
"I think that they have shown that they are able to work," Dales said. "They have shown their ability to work and stay committed during the season."
Chang was coming off the bench and is now starting, while Wells and Nienhaus have moved up from JV and have earned starting spots, according to Dales.
An additional factor in this season's success has been the ability to improve, according to Dales.
"We have all worked hard," Dales said. "We all know what we need to improve and how to improve it in order to achieve good results."
The ability to improve quickly and adapt to circumstances has been a key factor in this season's success.
Despite the Titan's 16-3 record and high state ranking, they have areas of improvement according to Lieberman.
"We can always improve on offense," Lieberman said. "Against Loyola, we were taking a lot of shots, and missed a lot of shots that we could have easily had."
The Titans boast a strong defense, only allowing three goals against Loyola, which was the turning point in the season, according to Lieberman. The Titans went into the game focused on not letting Loyola get open shots according to Lieberman.
"We had a game plan going in," Lieberman said. "We executed really well. I was really pleased with our defense."
After the win against Loyola, the Titans were handed their first loss of the season at New Trier on April 12, which was mostly caused by lack of preparation, according to Dales.
"We didn't come out ready to play," Dales said. "We were unfocused, they came out ready to play, got off to a quick lead and we couldn't recover."
The men were able to bounce back and beat Evanston on April 14, according to Dales. While the Titans still have more than half their season, the Conference, Sectionals and State Tournaments left, the Titans are confident that they are contenders for a State title according to Lieberman.
"We believe that we can play with the top teams in the State," Dales said. "We are a cohesive group and we are capable of making a strong push in the State tournament."