Women's basketball defeats New Trier, Loyola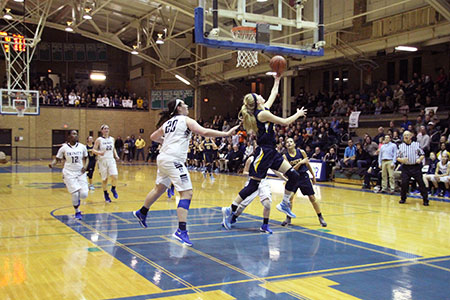 Having played many memorable games, the varsity women's basketball team finished their season with a record of 25-6, according to Head Coach Steve Weissenstein.
"We just wanted to be as good as we could be," Weissenstein said. "We beat Loyola in the regional final at Loyola, and then we knocked off arguably one of the best teams in the state which is New Trier. So, to win those kinds of things made it a really special year."
The Titans beat New Trier and Loyola with a score of 48-40 and 43-33, respectively. According to Weissenstein those were the most memorable games this season. Weissenstein believes that the team worked and played hard this season and hopes that they will improve even more next season.
"If just a few are committed we're going to be good, but to be great, we have to have a lot of commitment from a lot of people," Weissenstein said. "Our conference is a bear; there are no cupcakes! We have the potential to be very, very good next year."
Senior Captain Sarah McDonagh agrees that defeating New Trier was a huge accomplishment. McDonagh guarded senior Jeanie Boehm, New Trier center, who will be attending Harvard University to play basketball in the fall.
"The New Trier [game] was one of the best games I have ever been a part of," McDonagh said. "New Trier went into that game thinking that they already won. Before the game coach said that we had nothing to lose. "
The women defeated Loyola in the regional finals on Feb. 20. According to McDonagh, neither the Titans nor the Ramblers played well the first quarter of the game.
"The energy was great and it was so fun to win regionals with my team," McDonagh said. "In the first quarter neither team played very well. When that quarter ended, [Coach] told us that those were first quarter jitters, and that they were done. So we went out into the second, and went to work. "
According to Weissenstein, the Titans had a special season, and the seniors will be greatly missed. Senior captain Caitlin Morrison completed her high school basketball career with over 1000 points.
"Caitlin has just gotten better and better every year," Weissenstein said. "The thing about her is she can score inside and outside. [She is] a great leader and great rebounder."
McDonagh was another forward who added to the team play and dynamic. According to Weissenstein, McDonagh provided leadership and skill to the team.
"What [Sarah] did for our team – her leadership, her rebounding, her defense, her communication on the court – the intangibles she added to our team were really special,"  Weissenstein said.
This season was McDonagh's last season of basketball. She will be continuing her lacrosse career in college at San Diego State University. 
"I will miss the intensity of the game, but most of all, I will miss my team," McDonagh said. "[Coach Weissenstein] is one of the kindest, happiest and funniest people that I know. He pushed me everyday and always had something that I could work on. He cares for all of us so much, and I'm so thankful for the things that he taught me not only in basketball, but in life as well."