Men's wrestling aims to overcome adversity, prepare for regionals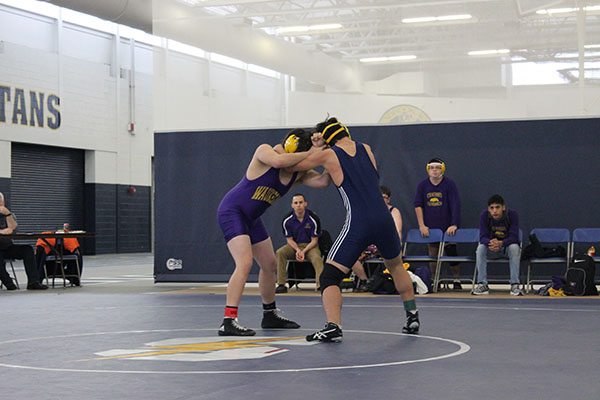 The varsity wrestling team has faced distractions, adversity, and tough losses,  according to head coach Tom Mietus. These setbacks, however, have not hindered the Titans as they aim to build on their current 13-4 record.
Mietus acknowledges that the practices towards the end of the season are not as difficult in order to let the wrestlers' bodies rest. The Titans are aiming to feel the best they have all year, according to Mietus.
"This is the point in time when we try to scale back in practices a little bit," Mietus said. "We're not trying to break them down anymore [because] we're trying to let their muscles regenerate [and] build up confidence, [as well as] mental toughness."
The Titans have been able to lean on captains junior Ethan Bond, senior Diego Montesinos and senior Edgar Borun, according to Mietus.  The team needs to improve their awareness on the mat, according to the captains.
"[We need to improve on] little things like parts of moves or being a little bit out of position on a move,"  Bond said. "[There's also a possibility that] you waited a few seconds too long to hit another move and you didn't leave enough time [left] on the clock."
The team's ability to maintain focus and improve mental toughness have been key elements to winning this season, according to Mietus.
"Everyone is at a different level," Mietus said. "I do think we have an edge [and] when it comes to mental toughness, the younger guys are learning it and the older guys have learned it and are still improving."
According to Mietus, those skills will be more useful against teams like New Trier and Maine South. However, the Titans have had a successful season so far, according to Mietus.
"We are above .500, [and] we're one-and-one in the conference," Mietus said. "We beat Niles West, who we have not beat in a long time."
Bond notes Niles Wests' great performance, despite the fact that the men won by a score of 46-17. Bond, however, lost by a score of 0-3.
"It was kind of tough, [and] we thought we would match up and have a good chance of winning [against Niles West]," Bond said. "Individually, the guy [I was against] was ranked pretty high, and I wrestled up a weight class, so I wasn't super confident [going into the match]."
Besides the win against the Wolves, the team looks to build on their successful start to the season at regionals, according to Borun.
"We hope to perform well at regionals," Borun said. "We have some high hopes [and] we hope some guys go to sectionals."
Bond aims to work hard for the rest of the season in order to do well during regionals.
"I think if we go in and wrestle hard we will finish in the top five," Bond said. "That would be a big accomplishment for our team."
The next time the men hit the mats will be on Feb. 6,  for the ISHA regional competition.