Faulkner wins national tennis coach award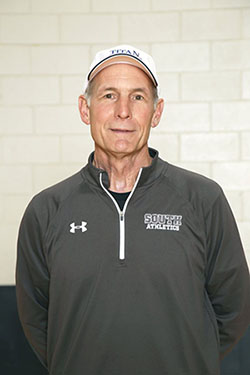 Larry Faulkner, varsity boy's tennis coach, was named the National High School Tennis Coach of the Year by the NHSA on Jan. 11. Faulkner acknowledges the award as being a monumental moment in his career, accompanied with three tennis awards and 40 years of coaching under his belt.
"There are so many great coaches throughout the state of Illinois, so to even be [nominated] by the state is an honor," Faulkner said. "To be selected nationally is just humbling. I never expected it."
Highlights of Faulkner's GBS coaching career include the team's second place state finish in 2003 and a top-five finish for nine of the past 20 years. Faulkner points out other awards that he has received in the past.
"I've been blessed by being named the state's Coach of the Year twice [in 1996 and in 2009] and [inducted into] the Coach Hall of Fame [in 2006]," Faulkner said.
Junior Bryce McClanahan, first doubles player, foresaw Faulkner's national level recognition based off of Faulkner's awarded past. According to McClanahan, Faulkner earned the award through his hard work and tennis technique application off the court.
"I was impressed and proud [of Faulkner]," McClanahan said. "He deserves it because he has been coaching for so long, and he still is so committed. He doesn't work at the school, but he still coaches and puts in so much effort. He has taught me to keep a level head because with a problem there is always a way out of it."
Junior Sebastien DesRoberts, doubles player, speaks on Faulkner's genuine personality, inclusiveness, and positive attitude.
"He is very genuine and connects with every single person on the team," DesRoberts said. "He's a very positive person, so he's made me a more positive person. He has done a great job with me and my other teammates."
For Faulkner, the congratulations and compliments received from McClanahan and DesRoberts have added to the joy of receiving the award.
"I've gotten feedback from people [who] were my coaches in the [1970s]," Faulkner said. "Also, two guys I coached in track congratulated me. To have them be 40 years out of high school, in their late 50's [and] take time out of their day is very nice."
Faulkner comments on what separates a poor coach from a great coach and looks to the upcoming season.
"It just gives me joy," Faulkner said. "If you don't enjoy what you're doing, you need to get out because if it's not fun for you, it's not fun for the kids you coach. It's fun to see kids improve over the four years [and] reach their true potential. It [is] not about winning or losing, it's the journey; the process of improvement through every day practices. My goal for this season is to get each kid to their personal best."