Women's basketball looks to improve on their success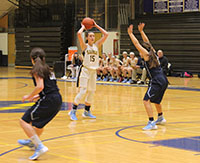 Samantha Casey, co-sports editor
December 18, 2015
Starting off their season with an 9-2 record, the women's basketball team looks to further improve on their game play, according to head coach Steve Weissenstein.
The team won the Mundelein Thanksgiving tournament by winning five games against Carmel (68-47), Grant (39-25), Highland Park (75-37), Mundelein (44-30) and Grayslake North (68-50). Senior captains Caitlin Morrison, Sarah McDonagh and  junior Carie Weinman were voted onto the All-Tournament team by the coaches of the opposing teams according to Weissenstein. According to McDonagh, it was a great way to start their season, as it brought the team together.
"We came out really strong and […] we all played as a team and everyone was really unselfish," McDonagh said. "It was [also] really nice being voted to the all tournament [team]; it was a really big honor."
In addition to the Mundelein Tournament, the Titans beat GBN 66-28 on Dec. 4. According to Morrison, the team was successful because they played with an aggressive defense and a smart offense.
"We passed the ball really well and played really aggressive defense," Morrison said. "On offense we were making smart decisions and we weren't forcing any shots or passes that were not there. We [also] scored almost every time down on offense, so that helped us."
Weissenstein also attributed the win to the team's defense and ball sharing.
"It is always fun playing Glenbrook North; I thought we played really well," Weissenstein said. "We played great defense, and we shared the ball real well. We had a lot of people score. Everyone got to play a lot, and when everyone gets to play it is just makes it a lot of fun."
On Dec. 8, the Titans fell to New Trier by a score of 34-55. According to Weissenstein, the team's inability to score on offense and New Trier's 15 three-point shots contributed to the loss.
"The thing with New Trier is they have a girl that is 6'3," Weissenstein said. "So you have to pick your poison; either let the big girl get the ball inside and make easy shots, or you are going to hope they shoot a lot of three [pointers] and don't shoot well. That is what we did, but unfortunately they shot well."
According to Weissenstein, the Titan's had a chance to cut the lead down to four points or even win, as there was an eight point differential for the majority of the game. Weissenstein also wants the team to learn from their mistakes and beat the Trevians when they play New Trier again at home on Jan. 22.
According to Morrison, the Titan's did not come out as strong against New Trier as they have been for most of the season.
"Our offense wasn't there for us," Morrison said. "The first half we [scored] 15 points and we usually average about 40 points [in the first half]."
The Titans also fell to Maine South (52-43) on Dec. 11 and expected a win because they had beat the Hawks the last four times they played, according to Morrison. According to McDonagh, it was hard to play against Maine South because the team had just lost Sydney Dehorn, former senior captain and starter, and were not used to the adjusted lineup. However, McDonagh looks forward to playing Maine South again because she believes they are the better team and that they can beat the Hawks.
"We did not have a good first half, and part of that is because we had a new lineup and it's always an adjustment when you are playing with new people, but it didn't take us that long to figure it out," McDonagh said. "We played really well in the second half, and although our shooting was off, we cut the difference to three [points], but it was too late."
McDonagh believes that if the team works hard, they will be able to adjust to the new lineup and hopefully do well in playoffs. According to Weissenstein, the team needs to improve on their defense and containing dribblers. Weissenstein hopes to see improvement in each game and practice until they are the best they can be at the end of the season.
The Titans play in the Wheaton North Holiday Tournament on Dec. 21-24 and 26. Last year, the Titans came in second and a couple years ago they won the tournament, according to Weissenstein, so they hope to win the Tournament again this year.
"We have a very good team and when we do the things we are supposed to do, we can beat anybody, so our goal is to go to Wheaton and win the tournament," Weissenstein said.