Titans look to fix inconsistency for conference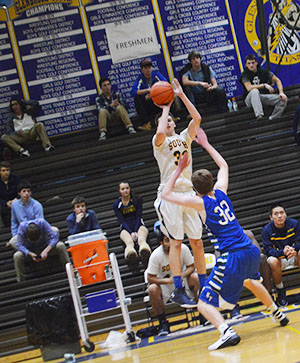 The men's basketball team walked into the 2015-16 season with two goals: place top three in conference and go to the regional championship,  according to senior captain Jimmy Martinelli. With five games played and a record of _, Head coach Ben Widner identifies the inconsistency as an obstacle.
"We're trying to prove everything to ourselves, because we've been inconsistent," Widner said. "We have to stay positive, because [you can't] give up, you've got to keep going and not let those losses hold you back."
In contrast, senior Daniel Jenkins points to the team's strength, experience.
"Last year we were a young team with four seniors, so it was a progress year," Jenkins said. "Now we have four returning starters and nine seniors, so team composition should help. Seniors show the amount of team experience."
According to Jenkins, team experience wasn't shown in the first two losses of the season to Lake Forest and Benet. In the Lake Forest game, the boy's struggled to maintain a lead, according to Jenkins. The Benet loss was understandable due to Benet's strength.
"Lake Forest was a good game up until the fourth quarter, then we just let up on defense and we weren't able to get a lot of points," Jenkins said. "Benet was sort of a fluke; they're one of the best teams we've ever played and probably will play all year."
The team beat St. Ignatius by one point with an end score of 59-58. According to Martinelli, the win was big for the team and the winning shot by junior Matt Giannakopoulos is what sticks out to him.
"St. Ignasius was ranked as 18th in the state," Martinelli said. "Matt made a layup, got fouled, and made a free throw, so we won by one point. We want to win by more, but if it takes that to win then it's fine by me."
Giannakopoulos reflects on the winning free throw and the excitement associated with it.
"After I hit the free throw  it was exciting but there were still a few seconds left that [St. Ignatius] could have shot but they missed," Giannakopoulos said. "It felt good to be the one that got the win especially because of the loss we had the day before against Lake Forest."
Moving on in the season, the boys beat New Trier on Nov. 28 in a final score of 64-45. GBS utilized New Trier's strength of aggressiveness as their weakness, says Martinelli.
"We took their aggressiveness and used it against them," Martinelli said. "They were trying to attack the hoop while we were getting steals and a bunch of turnovers.."
Widner explains that the New Trier game served as an example of what the team could achieve if work and consistency were combined behind a specific goal.
"That was a huge game for us," Widner said. "We set goals before the game and we accomplished all of them. It showed that if we set goals and stay focused we can be a really good team."
Right after the New Trier win, the boys took a loss to rival GBN with the end scoreboard reading 47-51. Junior George Arvanitis points to team motivation and the energy as being the primary reason of the loss.
"They came out a lot stronger than us, and they looked like they wanted to win…They tried harder, hustled, we just didn't try for it," Arvanitis said.
Giannakopoulos said the loss was hard to accept, since the boys wanted to keep the winning roll going after beating New Trier.
"That was a hard loss to take because we definitely should have won," Giannakopoulos said. "After we beat New Trier, we just wanted to keep that ball rolling, [but] we couldn't."
The team then lost to New Trier on Dec. 8 with the score reading 40-49. Widner acknowledges the loss as being another hard one to accept and points out the factors that played into the loss.
"They will always be a good team but we have to be able to bounce back," Widner said. "Our biggest thing was we weren't able to handle the ball, we got thirty turnovers. An issue for us, is their team size allows them to cover more ground offensively and be a better rebounding team."