Woman's volleyball falls to Loyola in regionals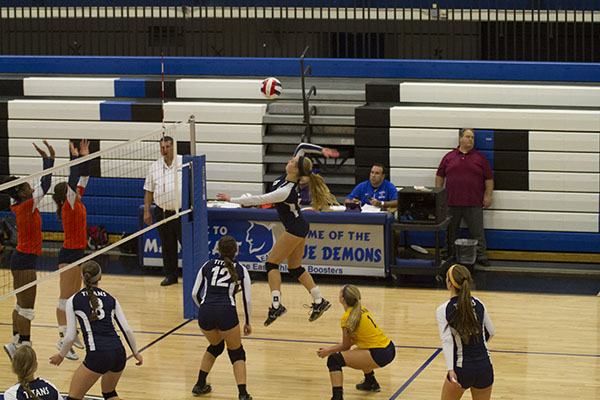 The women's volleyball team ended their season on Oct. 29 against Loyola in the regional finals with a score of 16-25 and 16-25. According to senior captain Cory Klapacz, despite the loss, playoffs and conference showed the team's true potential as they recovered from past obstacles including a losing streak midway through the season.
"This season at first was frustrating because we had the talent but we couldn't play well together," Klapacz said. "Last [season] we went 30-8, so it was rough having that losing streak. We pushed through and by the middle of the season, we were working well together. We [were] just tired of losing, so we picked it up. We took some teams to three sets that previously were hard teams for us [like] New Trier and Stevenson. Nothing we did was in vain, we have things to be proud of."
Head coach Katie Hoover pinpoints the team's true strength, determination, and the fight the team put up against some of the toughest competition.
"Our end of season matches against the best teams in our area demonstrated that we improved," Hoover said. "We relied on hard work and teamwork to score more points and win individual games against those teams."
The losing streak ended at the first conference match against Waukegan with a score of 25-14 and 25-13. Yet according to Eenigenburg, the team acknowledges the New Trier match loss on Oct. 13 as the real game changer. The team took a set but couldn't carry out a full win. With an end score of 25-19, 18-25, and 11-25 .
"It [showed] our skill as a team that we were able to take a game away from [New Trier], while no other school in our conference had been able to do that," Eenigenburg said.
With the New Trier confidence boost, the girls walked into the regional semifinals against Evanston. GBS had a 3-1 record against them prior to the match. According to Eenigenburg, those wins gave the team more confidence, but they tried to keep the confidence under wraps. The girls walked out with the win at a score of 25-17 and 25-20.
"It was such an important game, so it was really encouraging to us to show ourselves and to show the other team that we can beat them [again]," Eenigenburg said. "We did have a lot of confidence but we didn't want to have too much. Sometimes when we're overconfident we don't play our hardest and make stupid mistakes."
According to junior Julia Rytel, the team walked into the regional finals knowing Loyola was a challenge. Yet, Rytel stands by the fact that GBS could have gone further in playoffs, but she is still happy with the team's hard work.
"[Loyola is] a well rounded team," Rytel said. "A majority of their players have been playing with each other since their freshmen year, so they've developed a really good connection, [but] I think [we were] capable of going further into the playoffs. [Yet], there comes a point where a competitive matchup will be encountered early in the postseason. We left it all out on the floor."