Men's soccer loses to GBN in shootout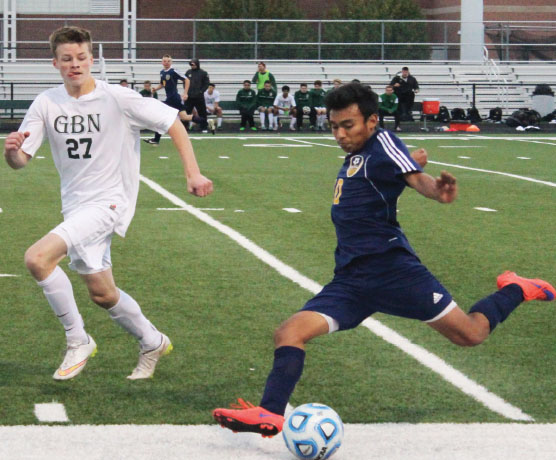 Georgia Arvanitis, co-sports editor
November 6, 2015
Finishing the season with a record of 13-9-2, the men's soccer team finished the postseason with a loss to Glenbrook North in the Regional Championship Final.
According to senior defenseman Henry Tarbox, the team played exceptionally well in their last postseason game against GBN despite the loss. Tarbox mentioned that after the game the team was drained and stunned by the results. However, he believes they fought hard.
"I don't even really feel like we lost that game," Tarbox said. "We didn't dominate, but we were definitely the better team. I think that was one of our best games of the year [because] we gave it all that we could. We were just exhausted and shocked by the whole situation."
Head coach Seong Bong Ha agrees that it was a tough loss. Ha also comments on how the team, particularly the seniors, felt after the game.
"[I] felt devastated for the nine seniors," Ha said. "[I] thought this team could make a very long run in the state playoffs and to lose in the manner that we did was absolutely gut-wrenching.  It was a fantastic regional championship final and [I] would not expect anything different with a GBS vs. GBN soccer match. Overall, these boys were very special."
Senior goalie Perry Adamopoulos received a yellow card with a minute left in second overtime. The team played a total of 80 minutes regulation time with two overtimes at 10 minutes each. According to Adamopoulos, the team played well and their record doesn't reflect how good of a team they are.
"Last year it wasn't about winning as much as it is this year, we're a more soccer minded group," Adamopoulos said. "We had a lot of injuries this year, which is why our record probably is [13]-[9]-2. We think [we could have] had another two wins. All of our guys who were injured came back for playoffs [except for 3]."
According to Ha, the players tied for the third most wins in school history, with 13, and tied for the third least amount of goals given up in a season, with 25 goals in 24 games. Ha believes that the men played incredibly well and thought they could have defeated GBN.
"I thought the boys were good enough to win the match," Ha said. "Our defense and goalkeeper [were] outstanding, our midfield play steadied our offense and defense, and our forwards attacked with speed creating numerous chances.  I know the boys are sad, not only from the result, but that they were no longer going to be playing together, at least for this season. […] Their character, hard work, and teamwork were outstanding and for that [this] is the hardest reason to say goodbye to a great bunch of men."