Junior wins conference, takes seventh at state meet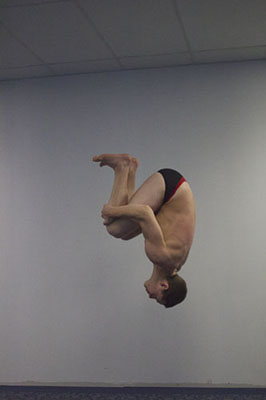 Joe Lee & Sam Casey, staff writers
April 22, 2014
Hang on for a minute...we're trying to find some more stories you might like.
Leaping off the diving board, flipping in the air, junior Aaron Ach hits the water aiming for a perfect 10.
Ach, member of the South diving team, was ranked seventh place during the state meet this past season on March 1.
According to Ach, he is very proud of his team beating New Trier during the state meet. Ach points out the fact that his work on the board didn't fulfill his personal goal, but he is glad that he helped the team out.
"We still beat New Trier, and that has to feel good," Ach said. "I wasn't entirely satisfied with being seventh. My goal was to be in the top six personally, but I'm just really thankful that my points were able to be factored into doing so well as a team."
According to Laura Duffy, South diving team coach, she loves to work with Ach because of his great talent and ability to do intricate dives.
"Ach is very powerful and explosive," Duffy said. "He can really ride the board. He gets a lot of height from the diving board and uses it well. He does a lot of difficult dives and some dives that officials have never even seen before."
Ach's determination and responsibility is what makes him a leader to his teammates, according to varsity diver Patrick Tener.
"He's very mature, likes to be on time for everything, is very polite to everyone, and makes sure we shake everybody's hands," Tener said. "He takes the leadership position, being one of the oldest after one of our seniors, Alex Jackman, got injured."
Ach's role as a great diver and an impressive student has motivated many of his teammates, according to Tener.
"He's motivated me in lots of ways for diving," Tener said. "Watching him dive motivates me to become as good as he is. He is also very good academically and shows that I could be just as good as him because he tries really hard."
According to Ach, his leadership role towards his younger and older teammates has just been his way of helping the team out.
"I hope that I would be able to be that [leader]," Ach said. "The importance of being that person to divers after I graduate would help [the younger teammates] lead the team."
According to Ach, he gives all of the credit for his work and leadership role to coach Duffy. He mentions that Duffy is his main supporter and motivator for his work on and off the diving board.
"[Being a leader and role model to the teammates] is cool and very much attributed to coach Duffy," Ach said. "I think that she really finds a way to cultivate the leadership that is within each of us and continues to reinforce that every minute we spend with her."
Duffy said that Ach's mindset is what separates him from any other great divers.
"He is really consistent across the board," Duffy said. "He's very good at controlling his emotions when he's in competitions."
According to Ach, he is hoping to dive in college and continue his career as a diver.
"I am really hoping to dive in college and have developed a huge passion for this sport in my high school career," Ach said. "I am very much hoping to continue this passion into college."