Sabrina reboot wickedly good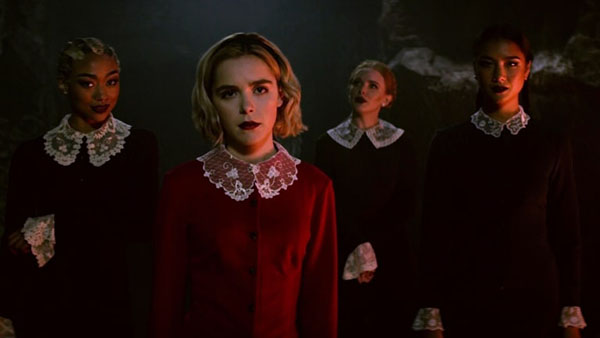 I was on a "witch hunt" (although I don't particularly care for that term) for a good binge-worthy TV show when I came across The Chilling Adventures of Sabrina.  After watching the entire first season, I felt empowered, enlightened, and thoroughly spooked.
Set during the same time period as Riverdale, The Chilling Adventures of Sabrina takes place in a sleepy town named Greendale. The show starts with Sabrina Spellman (Kiernan Shipka) marking off the days until her 16th birthday. For most, a Sweet 16 party marks a rite of passage into one's exciting teenage years to come, but for Sabrina, it marks a rite of passage into her witch coven and a chance to give herself over to the Dark Lord (a Satanic figure that is worshiped within the coven).
Sabrina was born half mortal and half witch, and has lived with her two aunts since the time of her parents' deaths. When Sabrina turns 16, she is supposed to sign her name in "The Book of the Beast" (the text in which the Dark Lord is worshiped). In doing this, Sabrina is told she will give up her freedom in exchange for power. While trying to choose which concept is more valuable to herself, Sabrina is busy starting a club for women's rights.
Because of their passion for feminism, I felt a charming connection to Sabrina and her friends as fellow young women. Suzy (Lachlan Watson) struggles with gender identity barriers while Roz (Jaz Sinclair) explores the ancestry of her African American female relatives. The three friends spread the idea of women supporting women while giving power to an often buried teenage girl's voice.
Not only does The Chilling Adventures of Sabrina explore realistic situations of female empowerment, but it also covers the taboo subject of witchcraft. Unlike the demonized witches of prior times, Sabrina offers a breath of fresh air when it comes to witchcraft simply because of her choices to selflessly use magic for the good of her community.
Throughout the season, Sabrina gains wisdom from her female mentors including her aunts, Hilda (Lucy Davis) and Zelda (Miranda Otto), and a teacher turned witch, Ms. Wardwell. Hilda portrays a more motherly female who provides emotional comfort, whereas Zelda embodies a more witty, sharp-edged woman with sarcastic jokes. Ms. Wardwell (Michelle Gomez) develops into the main antagonist as she depicts a cunning and dark witch, always around the corner with another scheme.
The Chilling Adventures of Sabrina offers an exploration of all the aspects of the female mind, proving the idea that a woman can be many things. Each female character has a way of fighting their own societal norms.
Although she lives a magical life, Sabrina struggles with the same gender constraints that other young women do. The Chilling Adventures of Sabrina has left me with a new feeling of earthly power, and a deep appreciation for the underestimated female witch.