The Best Singles of 2017: Now that a full month (and the Grammys) have passed, we asked some 8th-grader guest-writers to break down their favorite songs of 2017. Check them out: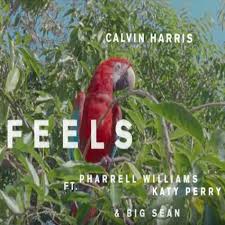 Hang on for a minute...we're trying to find some more stories you might like.
"Feels" by Calvin Harris
review by Mackenzie Bill
Is it possible for one song to have four artists, while still having a balance between singing? It may be hard to believe, but "Feels" by Calvin Harris featuring Pharrell Williams, Katy Perry, and Big Sean accomplishes this. This uplifting song with a catchy beat has reached Number One in charts in over seven countries.
With rapping, singing, and everything in between, this song is for the entire family. Minimum swear words and a happy mood are some great traits for this song. Pharrell sings in the first line "No, nothing ever lasts forever, no," singing about letting go and being carefree. Going back and forth, Katy Perry and Pharrell sing the chorus while Calvin Harris raps. Again, the fact that four artists are able to make this great of a song is awe-inspiring. Listen to this once, and you'll find yourself singing this everywhere you go.
"See You Again" by Tyler the Creator ft. Kali Uchis
review by Maddie Dashnaw
Hip-hop generally has a bad reputation in most people's eyes. However, Tyler the Creator ditches the gangster rap, particularly in his song "See You Again" with Colombian-American singer Kali Uchis. "See You Again" is most definitely contrary to most people's perceptions of rap through the mood it creates.
Tyler utilizes Kali's chilling vocals and mellow instrumentation to create an upbeat, laying-on-a-cloud mood. The synth keyboard and the glockenspiel in combination with rests between sections set the mood for the song. It is airy, like the charismatic feeling that love stirs up in someone—as if reality is a dream. Leading to the chorus, there is bass added to the instrumentation. Kali Uchis comes in, with her smooth vocals that give me goosebumps. Her voice adds a sense of longing to the song, effectively creating the urgency to see the person for which the song is dedicated to once more. The overall feeling of the song makes it a great song to sing and dance to, or for serenading a loved one.
"Shape of You" by Ed Sheeran
review by Keziah Thomas
The song, "Shape of You" was a very popular song in the beginning of the year 2017. It was about a love story between two people. There were different meanings throughout the whole song. In the beginning, they didn't really know each other that well, but they liked each other. Then they had the courage to confess their love to each other, then that's when they started hanging out together.
The genre of the song is Pop. The author of the song, Ed Sheeran has many other songs, and "Shape of You" has been nominated for many awards. "Shape of You" is repetitive, but catchy. The song has a lot of catchy beats, a catchy tune and a catchy chorus as well. It was overplayed in 2017, when it was really popular. The song has many recognitions. Overall, I would recommend this song because it's very catchy.
"Despacito" by Luis Fonsi
review by Mitchell Coons
Music is a worldwide experience. It doesn't matter where you're from or what language you speak, if the song is good, it brings joy to us all. When all else fails and our life is in misery, we resort to the beautiful, sweet, rich sounds of music. Which is why "Despacito" is the best song of 2017. "Despacito", swaying its amazing vibes into society, was the most viewed video on Youtube in history at more than four billion views! This just shows that lyrics don't have to be present or even understood for there to be a great song.
The entire song of Despacito is in Spanish, yet it spread across the entire world, like a plague. When other songs like "Shape of you" and "See you again" spread across America, "Despacito" took the musical world by storm. Songs couldn't compete in the music market as this singular song soared to the top. This song brings your ears to another dimension that is filled with good tempos, steady beats, and overall good music. As I said before it got over four billion views on Youtube and is still growing today, like fungi spreading through the utter dim forests. This shows that music in other countries is starting to spread to ours, and many more, which is good because culture is spreading and when culture spreads, more people have more in common, and having more in common with other countries might help stop hatred among two groups. It's just one step to bringing the world closer, and the music might not show that in its lyrics or in any part of its music, but I hope more people interpret it that way. Cultures spreading, goodness growing, and good music flowing through the air.
"Your Welcome" By Dwayne "The Rock" Johnson
review by Noah Collins
I do not listen to a lot of music from the present day but the one song that stuck out the me was "Your Welcome" by Dwayne Johnson. The music video was not only a visual masterpiece but the singing by Dwayne Johnson was also fantastic.
The rhythm is on point and Dwayne Johnson never misses a beat. The clever lines and the way the characters sing back and forth is genius. I especially like how the character Maui from the movie "Moana", played by Dwayne Johnson, keeps complimenting himself in the song. It not only adds good rhymes to the song but character development as well. Although, this song is from a movie it stands out and acts as its own song. The harmony created between the two characters Maui and Moana in the song is fantastic. "Your Welcome" also creates a humorous scenario between the two characters and adds to their relationship. The way the rhythm and beat moves throughout the song is very smooth and natural. The way the two characters switch between singing is also done very smoothly and in a humorous way.
"The Long Way" by Brett Eldredge
review by Suzanne Kurland
Taking over the country music industry, Brett Eldredge takes on a meaningful story from his childhood into a top billboard song. Leaving his last single "Somethin' I'm Good At" with major hits, Eldredge jumps back in with his second song in his album, "The Long Way." Known for not having the most interesting song lyrics, Eldredge surprises the wide audience of fans with his range of vocals and variety of instruments.
Remaining one of the best country vocalist throughout 2017, Eldredge rarely brought personal stories throughout his career. But, as bringing back his childhood brought emotions, Eldredge was once told he sings better when sad. Rolling Stone wrote that "It gave him time to show off his effortless range, impressive tone and boundless charisma."  As most of the song relates back to a girl, he takes the fans to his teenage years and his first real love. Despite some repetition throughout he song, it has familiarity and comfort as the light beat song his enjoyable. I highly recommend it.
"Good Old Days" by Macklemore ft. Kesha
review by Eliah Omens
The best songs are the ones that get stuck in your head on the big exam, the song that's on replay on B96. The song when you're doing something you can't stop playing in your head, over and over again. The song that's for everyone. That song is "Good Old Days" by Macklemore and Kesha.
"Good Old Days" is for everyone. The rapping and the singing appeals to everyone. Especially with the clean lyrics and the catchy beats. "I wish somebody would have told me that, some day, these will be the good old days all the love you won't forget." It is so hard to get the chorus out of your head, and is stuck in so many peoples head. This is why you should add it to your playlist, but don't blame me if it gets stuck in your head.
"Unforgettable" by French Montana (ft. Swae Lee)
review by Alexandra Azara
You know it is a good song when you can listen to it over and over again for an hour straight. In my opinion, the song "Unforgettable" does just that. The best song of 2017 is "Unforgettable." It is an upbeat, loud, and energetic song. The song makes you want to get up and start dancing. In my experience, if this song comes on and I am in the car I just belt out the lyrics and dance like nobody's watching.
"Unforgettable" makes you happy when you are sad and calm when you are angry. The song occasionally plays on the radio, but when it does it is an overjoying experience. This song has an element that most don't. In addition to the musical genius French Montana being the lead vocalist, Swae Lee collaborates with him in this song. Swae Lee adds a very chill upbeat vibe to the song. Overall this song can't be beat for one of the best songs of 2017.