District distributes Go Bags to 23 locations across South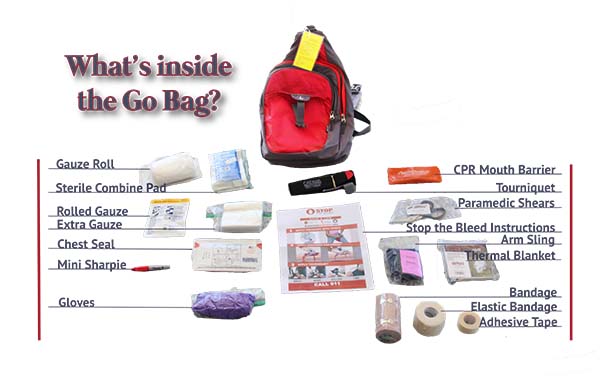 Beginning the week after spring break, 23 emergency response kits, commonly referred to as Go Bags, throughout the school, have been placed in all major department offices, the Dean's Office, the gym and other additional locations, according to Head Trainer Tony Catsaros.
Catsaros says that Go Bags feature higher technical equipment and are not to be used for injuries that can be addressed with a first aid kit, as they are more for severe trauma or bleeding injuries. Three situations that Go Bags can be used for are assailant, natural disaster and structural collapse injuries, Catsaros elaborates. The concept of Go Bags' usage is similar to a fire extinguisher, as it is should only be used when absolutely necessary Catsaros says.
"It's like a fire extinguisher, they're just there," Catsaros said. "We know they're there. We don't ever want to use them. We don't ever hopefully have to use them, but they're there, and they should just be in their place and used if needed."
Catsaros says that the contents of the Go Bags are held in lightweight recognizable red backpacks. He explains that each bag costs $85 and all of the contents were hand-picked to be cost-efficient and effective. There are similar premade emergency response kits online, but these ranged from $80 to $150, which still did not include all the desired items, Catsaros adds.
In the future, Go Bags could potentially be expanded to every classroom or hallway, but this would be challenging to do because of the size of South, Principal Dr. Lauren Fagel says.
"One of the elementary districts in Northbrook has one in every classroom, but in high schools, it's harder because they are so much bigger," Fagel said. "Eventually we might have one in every classroom, or at least every hallway."
Casey Wright, associate principal for administrative services, mentions that it is a staff member's responsibility to grab the Go Bag if a situation arises, so ideally students would not be using the bag. However, if a staff member is not available, students can grab the bag, therefore everyone should be educated on the use of it, Wright states. The administration is always talking about how to make South an even more safe and secure place, and no one can ever be over-prepared if a crisis occurs, Wright explains.
"There's always conversations [of] how to continue to create a safe learning environment for all of our students, staff and visitors," Wright said. "We feel good when you walk through the halls and see fire extinguishers, AED machines, Stop the Bleed kits and now these emergency response bags."