Model United Nations season cancelled, reinstated 3 days later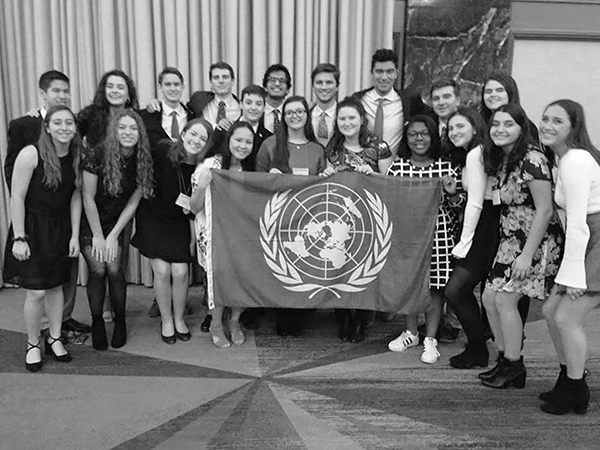 On Tuesday, Feb. 13, the GBS Model UN team's season was cancelled by an administrative council, according to Principal Dr. Lauren Fagel. Following three days of deliberation, however, the same council decided on Feb. 16 to reinstate the club's season under interim sponsor Terry Jozwik. The Model UN team traveled to New York from March 2 to 5 for the National High School Model UN Conference (NHSMUN) after the reinstatement.
According to Fagel, it was not one incident that caused the cancellation of the team's season, but a combination of different factors that made the council feel that the clubs' environment was not safe for students.
"There's not one single reason we made it, but it was a convergence of factors that we looked at," Fagel said. "One [reason] was we needed to find new sponsors. It's very hard to find sponsors mid-year. The second thing was we were learning more than we had ever known before about some of the ways that students were treating other students within Model UN."
Although the administration knew the treatment was confined to a small group of students, Fagel says they were unable to identify who the particular students were, thus fueling the decision to cancel the season.
"We were learning of some really concerning [behavior], but when you don't have information to work with certain individuals, and you're dealing with more of a cultural problem, your options become sort of limited," Fagel said.
Following the cancellation, the administration received a surge of feedback from students and parents, in which the administration learned about the preparation that had already been done by club members for future conferences. According to Fagel, this, along with the return of Jozwik, led to the season's reinstatement. The former sponsors declined to comment on this story.
Jozwik said, "For eight years at GBS, I was able to see how much a student could learn from being involved in it … Members of MUN, I believe, will be productive citizens who will go on to make a difference in the world."
Katie Roberts, co-president of Model UN, believes that although she understands why the administration decided to cancel the season, their decision to reinstate the season was the right way to go.
"I think that the administrators were doing their jobs in terms of trying to keep the students of their school safe and trying to do the best that they could, and I think it's difficult with a club as large as Model UN," Roberts said. "Ultimately, their decision to [reinstate] the club was best because at that time they had spoken to a lot more people and heard a lot more about the bigger picture of Model UN rather than a couple of situations that had come up."
According to junior Spencer Wells, co-publicity chair of Model UN, there were several different reactions among club members to the cancellation, but most students were upset. For Wells, the primary feeling was frustration.
"I just couldn't understand why this was the route being taken," Wells said. "I felt that even though the club wasn't doing as well as it used to in terms of cooperation and behavior, there could've been more steps taken before shutting down the club. There was so little clarity into the decision making; even the presidents had no clue that it was being shut down until it did."
Roberts says the period of cancellation brought members of the club closer together.
"As somebody who has invested the past three years of my life into Model UN, it was really difficult to imagine the rest of my high school year, even if it's only for a few months without having it," Roberts said. "During that three-day period, it was more of a bonding experience than expected. I had a lot of texts from people who I knew were in Model UN but I didn't know well extending their sorrows for the season not being able to continue and we all banded together and tried to convince the people necessary that this was the wrong move."
Jozwik says the Model UN team worked extremely hard while at the conference in New York, and their efforts paid off, as they won the Model UN Award of Distinction.
"Twenty dedicated members worked as hard as they could to 'better the best' in their assigned committees," Jozwik said. "The team earned an Award of Distinction at the closing ceremony. This is the highest award given to the top three schools at the conference. We [distinguished ourselves] from others in New York — in thought, word and deed."
Administrators went through with the reinstatement with a few select changes including a measure where Fagel and Josh Koo, assistant principal of student activities, act as assistant advisers to Jozwik, check bags before trips, and  employ stricter rules at conferences. Though these changes are different for the club, Wells feels that there is a clear difference in the culture of the club after its cancellation.
"Before [Model UN] got suspended, it was almost a shell of its former self. People weren't showing up to meetings, and the vibe on the board was one of selfishness and conflict," Wells said. "Then after it got reinstated, the first meeting with Jozwik back was like night and day. He gave everyone a much more hopeful view and people started showing up again."
Roberts believes that the three-day cancellation period has brought out the best in the club and revealed the people who are fully committed to the team.
"People who expressed how much they wanted the club to stay and the people who have been coming to meetings since have really shown what Model UN is about," Roberts said. "It's about diplomacy, it's about growing as a person and it's about battling about what comes at you."