Administration strives to improve South's accessibility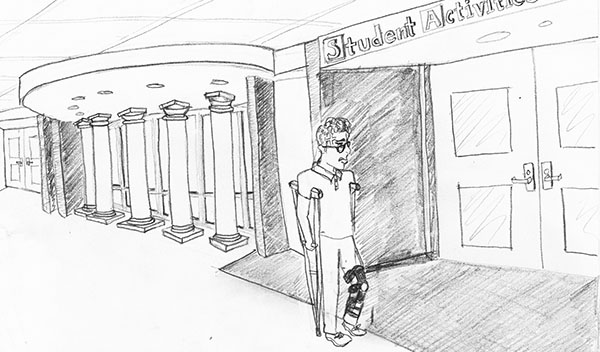 Isabella Albrecht
December 22, 2017
In an effort to make South more accessible to students with physical disabilities, the administration is looking to add several new features to the building. The most recent was the installation of a push button to open the library doors in late November, according to Casey Wright, associate principal for administrative services.
Wright says the push button has been a topic of conversation because the library is a public space that everyone needs access to. Its recent installation was a success, according to Wright, and the administration is discussing installing one in the SAC as well.
According to Kara Bolf, special education teacher, she requested push button doors at the beginning of the year to make sure all students and faculty have easy access to the library.
"We have several students in the school who had trouble accessing the library or the TLC," Bolf said. "Sometimes they had to wait for someone to open the door for them. Now students with physical disabilities can enter the Library and TLC independently, which is amazing."
Stacey Wolfe, instructional supervisor of the Special Education Department, says the button also benefits those who have injuries, are pushing a stroller, or have their hands full and just cannot open the door.
"Often we make changes with a few students in mind and realize that it benefits a larger group of students," Wolfe said.
Principal Dr. Lauren Fagel says the stadium bleachers are another area of focus, as there is a student in band who is in a wheelchair and has difficulty getting into the bleachers to sit with the band after performances.
"For the student to sit on the bleachers with band when they are done performing she has to get out of her wheelchair, have someone lift the wheelchair up there and then she needs to walk with assistance up the stairs," Fagel said. "It would be nice to have a ramp and an accessible section."
Wright says that a change to the bleachers, however, would require more planning than the library's push button.
"I'm going to need to meet with the architects and it would be a bigger project if we were going to try to make [the bleachers more accessible,]" Wright said. "We still need to do a lot of investigation in the gym area to see what even is possible."
Fagel says that while GBS is becoming more accessible, the school is up to date on all the Americans with Disabilities Act (ADA) rules which require all new building additions and renovations to be accessible.
"According to ADA rules, you're not responsible for what your building already has," Fagel said. "But if you build something new, you have to make it ADA compliant."
Although GBS meets all the requirements, Bolf said that there are still other ways GBS can continue to improve its accessibility.
"We have been talking about offering closed captioning for our morning announcements or videos," Bolf said. "This would be beneficial to people with hearing impairments in the school."
Despite the effort these projects t, Fagel says accessibility remains a top priority at South.
"Someone with a physical disability shouldn't have to ask for help," Fagel said. "We should be able to create an environment where they can be as independent as they can."