BOOM revamps GBS homecoming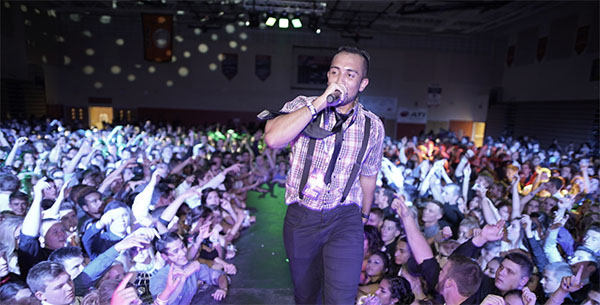 Student demand for a better homecoming at South has caused the school to hire a third-party company called BOOM Entertainment to facilitate this year's homecoming dance for the first time, according to Josh Koo, Assistant Principal of Student Activities.
After receiving negative feedback from students about homecoming and reviewing many entertainment groups, DJs, other companies, live music, and different entertainment formats, Koo and Abby Grant, student body president, decided to bring BOOM in after extensive research on their company.
"When [students were asked] what they wished they could change about [South activities], they responded: 'The dances.'" Koo said.
Alexander "AJ" Weiger, a representative of BOOM, says BOOM wants to bring a sense of professionalism to South's otherwise homespun dance. Weiger promised that homecoming, themed "Windy City South," scheduled for Oct. 21, will be unforgettable. An unscientific survey conducted by the Oracle revealed that 73 percent of 203 students surveyed who attended South's 2016 homecoming stayed for less than one hour.
"[GBS students] are going stay the longest they've ever stayed [at homecoming]," Weiger, said. "They won't want to leave."
According to Weiger, homecoming is guaranteed to have "a legitimate concert setup" akin to the summer music festival Lollapalooza. Along with the implementation of a song request link available to all GBS students, BOOM promises to include songs that go along with the 2017 homecoming theme, Windy City South. The concert setup will have a stage with a catwalk, an LED screen, sixty pounds of confetti, CO2 cannons, and a lounge. BOOM will also be helping with the pep rally before the homecoming game.
"What [BOOM] wants to do for us is insane," Koo said. "The hype is real."
As a result of hiring such a company, ticket prices to attend the dance have increased. Koo and Grant expect ticket prices to be $15 in contrast to the previous $9 fee. Though ticket prices could have easily been raised to $20 or $30, they were kept at a modest range because South cut out many other expenses offered by BOOM, Grant said.
"We're not making it as expensive as we probably should be, but we don't want to sway people away from going to the dance," Grant said.    
BOOM has worked with many other schools during their homecoming week including New Trier and Stevenson high school. Weiger says that before BOOM came, New Trier students only stayed at the dance for 30 minutes or less, but after BOOM arrived, students stayed for two to two and a half hours. Weiger expects the experience at GBS to be similar.
New Trier alum Becca Kwon disagrees with Weiger on the influence BOOM brought to her high school's 2016 homecoming dance in saying, "Boom followed New Trier's typical homecoming format," Kwon said. "The differences [BOOM made] were not very impactful or memorable."
During South's fall sports assembly, a short promo video about BOOM's involvement was shown to students, featuring actual footage from their previous work at high school dances. Reactions to BOOM's video was positive for freshman Drew Maytum.
"If [the homecoming dance] is actually that cool, I'll probably stay for an hour and a half," Maytum said.
With the proposed changes to homecoming, Grant and student council believe there are many things for South students to be excited about.
"I'm just excited for it to be something that people are more active and engaged with," Grant said. "It hopefully won't just be people standing around this time. You'll see pumping fists and people getting pulled up on stage." 
*The journalistic writing class contributed to this report.