Debate teams win fifth, first at state competitions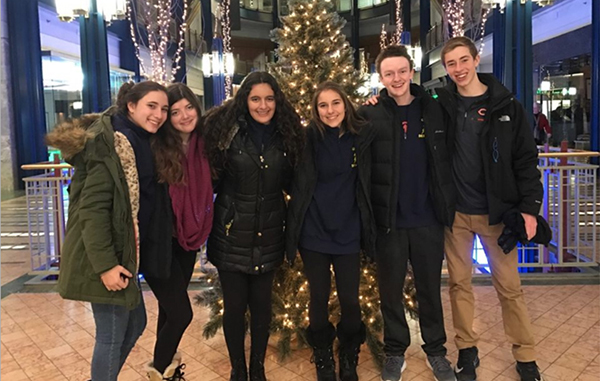 Isabella Albrecht, staff reporter
April 21, 2017
Glenbrook South's varsity and junior varsity (JV) debate teams placed fifth and first, respectively, at state tournaments this March.
Jon Voss, head debate coach, says the JV win was exciting because two GBS teams, comprised of sophomores Michael Scott and Dylan Goldberg and junior Katie Kenner with sophomore Sabina Roberts, tied with each other and became co-champions in the tournament.
"The […] tournament is always a really competitive one […] because other area schools have really outstanding up-and-coming debaters," Voss said. "So to have the two teams […] close out the JV state championship is really exciting. […] At least in recent history, that hasn't happened."
Scott says the tournament had some tense yet exciting moments during the quarterfinals when he and Goldberg beat New Trier debaters who presented a new point during the round.
"[It was] a stressful thing," Scott said. "They were expected to win because it's really hard to beat a new argument when someone reads it against you. All of our friends were watching the round from GBS, and […] we actually managed to win even though we were behind at the start."
Kenner says both the JV and varsity teams compete in policy debate, centered around the diplomatic and/or economic engagement with China.
"We have different affirmative arguments about things like nuclear postures and human rights in China," Kenner said. "On the negative, we talk about ways that we should engage them or not engage them and whether […] it's problematic to engage them."
Senior Brendan Schuler, who competed in the varsity state tournament, was proud of how the team competed against tough competition.
"[It was exciting to find] out we got into the elimination round considering there were only eight teams [in that round] out of around fifty," Schuler said. "Illinois is probably considered the most competitive state in the nation in terms of policy debate."
In addition to the debaters' extensive preparation, Voss explained that a portion of the team's success can be attributed to their collaboration.
"Those students seemed more interested in how their teammates were doing than in how they were doing," Voss said. "It wasn't just a partnership of two interested in winning the tournament, but [… the pair] wanted to do it for the team."