Indianapolis anti-Trump rally attracts diverse, divided audience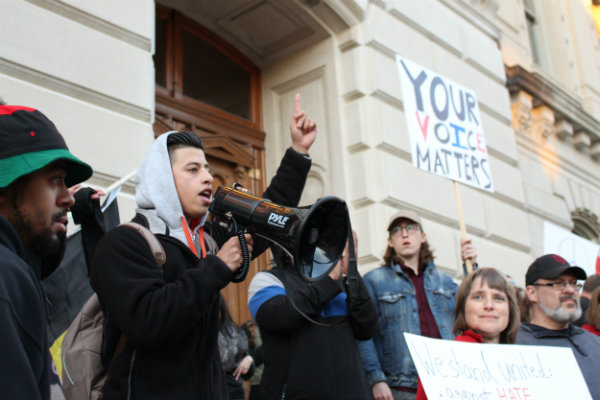 From Nov. 10-13, the Oracle Editorial Board attended a journalism convention in Indianapolis, Indiana. The hotel for the convention was located two blocks from the Indiana State House, where a protest occurred in the evening on Nov. 12. Several South journalists attended the demonstration with the intention to conduct interviews, take photographs, and report on the event.
An Indianapolis resistance rally protesting Donald Trump's election to presidential office occurred on the south side of the Indiana State House on Nov. 12. At 5 p.m., approximately 300 people gathered, though the crowd grew to an estimated 700 or more throughout the evening. The rally was organized over Facebook by an Ivy Tech Community College student.
According to the Facebook page for the event, its goal was to "let the new head of states know that Indiana will not tolerate any form of bigotry, oppression and exploitation from [its] leaders." Jessica Rodriguez, an Indiana resident of Mexican descent, was at the rally and held a sign written in Spanish. She says she attended the rally because many of Trump's comments about immigration throughout his campaign were offensive to her based on her family's history.
"When I was five, I was brought into the country illegally by my parents," Rodriguez said. "Throughout the years, we got everything established and I got to the point where I was able to actually vote. […] When the election results came in, I actually felt like America slapped me in the face."
Throughout the event, anti-Trump speakers shared their stories, frustrations and concerns about Trump's presidency from the steps of the building. A megaphone amplified the voices of protesters giving speeches, and as it was passed around, chants were started around the theme of equality. After each speaker, much of the crowd cheered and applauded in agreement with their sentiments.  For attendee Kaycia Cox, an African American woman who held a sign saying "Love trumps hate," the event was an opportunity to emphasize the idea of acceptance.
"I think that love will always overcome hate," Cox said. "In cards, it would be like the ace. [… Trump opposition is] strong in [our] convictions, and our convictions are peace and love and unity. […] We're going higher than [many Trump supporters'] low."
Indiana resident Sarah Everett, who is married to a woman, held a poster bearing the phrase "too much to say, too little sign." Everett says she was sure that when watching coverage of the presidential election, she would be watching Hillary Clinton become the first female president of the United States. She said that she takes issue with Trump's election because he does not share her values of equality and inclusion.
"I taught at Ivy Tech Community College for a while and I got some close relationships with students who had come from other countries and fled countries from terror," Everett said. "I think a lot of people really don't understand that. I think all of us, we need to be more [accepting of diversity]."
Dustin Davis, an Indiana resident and Trump supporter, wore a sticker that said "make America great again." Davis said he attended the rally because he wanted a chance to hear both sides of the argument and attempt to work together with those who are unhappy with Trump's election.
"Whether people like it or not, [Trump is] our president for the next four years and we have to work through this as a collective," Davis said. "We can't feed into the mass media and do this social separation crap that people are feeding into."
Brianna Dines, another demonstration attendee, held out a sharpie marker to passersby who took an interest in her coffin-shaped sign with "Mourning America" written at the top. Fellow demonstrators were welcome to share their grievances by writing them down. Dines, concerned as an aunt of biracial children, a woman and a friend of people of color, explained that Trump's victory has emboldened hateful behavior. However, she says that the turnout at the rally proves that the movement against Trump has traction and potential for success.
"This coffin represents our grief about this loss, but it isn't over," Dines said. "We can look at this as the last desperate breath of the white supremacist patriarchy. And this [will] be Black Lives Matter, Occupy, Standing Rock – it's gonna culminate into one big movement, and this is just the beginning."
Later in the night, Trump supporter Alex Gehle arrived at the rally bearing a large American flag and a "Don't tread on me" flag tied around his neck. His presence, he said, was a counterprotest. He says that while he doesn't understand the reason behind opposing an outcome that's already been decided, he is glad that the demonstrators were speaking their voices.
"[Our right to free speech] is why America's great – because we can do things like this," Gehle said. "Other countries, these guys would get thrown in jail, I'd get thrown in jail. It's a wonderful country because of things like this, so I just hope that everybody stays peaceful and everybody kind of moves on with [Trump's presidency]."
As the event progressed, small groups of protesters deviated from the large group amassed outside the state house and began to march around its perimeter. As night fell, they attempted to move into the streets to block a large truck with a large Trump-Pence sign on its side that had been circling around the block and honking its horn during the demonstration. According to the Indy Star, several arrests had been made by the end of the night. Two police officers received minor injuries.
Anne Marie Yurik, co-editor-in-chief, Alex Sharp, co-features editor and Eliza Schloss, asst. features editor contributed to this report.