AP Government students run congressional debate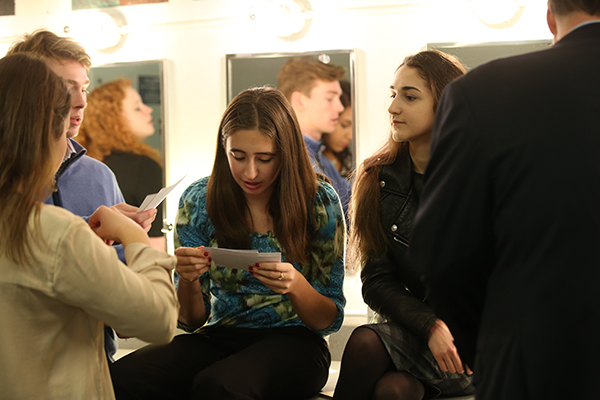 South's AP Government and Politics classes organized a debate for Illinois's 10th District congressional race between Republican incumbent Bob Dold and Democratic candidate Brad Schneider on Oct. 20 in the Norman E. Watson auditorium.
According to Tara Tate, AP Government teacher, the students enrolled in the class were responsible for various aspects of the event and were each given a designated job. David Kane, AP Government teacher, says that students in radio, TV and stage crew participated as well.
"One of our goals [was] to get the kids really involved in the process," Kane said. "We [tried] to get as many people as possible to get their fingerprints on this."
In addition to energizing South students about politics, Tate says that as an event open to the public, it was beneficial for the community as a whole.
"I hope we [were…] providing a service for [the community] to become more informed about the two candidates," Tate said.
The South-run debate differed from some previous events the two candidates were involved in because it did not have a set topic, according to the Daily North Shore. Following pre-written questions on foreign policy, economics and public welfare, the audience was welcome to submit their own inquiries. Tate said this helped to remedy the fact that often times, political elections seem out of touch with the general public and the openness helped to bridge this gap.
"I like it much better when the questions are coming from the audience," Schneider said. "[Those topics] are the real concerns [and] issues that [voters] want to hear about."
Both candidates were impressed with the involvement of students and the turnout of young people in the audience and the organization of the event; Dold says it was the most professional debate the two had so far.
"It's encouraging [to see student participation] because we're going to have a stronger community," Dold said. "Ultimately we want people to be engaged, not only in the political process but […] in other organizations […] and if [they] do, we're going to have a stronger community."
Matthew Whipple, AP Government teacher, explained that debates have become a political theater which serve primarily to solidify already existing biases rather than changing minds. In spite of this, the contest's exchange of ideas was still valuable.
"I'm a big believer in debate," Whipple said. "[It] can enhance ideas that are being presented […] It would be a beautiful thing—an elegant thing—if there were [debate watchers] who came with an open mind and heard things that resonated with them that cause them to think about their vote more critically."
For example, Glenview resident Jack Murphy attended the debate but left undecided. However, Murphy still viewed it as valuable in gaining a better understanding of the candidates.
"[When] you see people in person, you get a better feel for them rather than seeing them in a TV ad or reading about them in a paper," Murphy said. "At times they seemed to get more agitated or more interested in some issues, so it was interesting to see that."
Evelyn Krasnik, who worked in the Schneider green room, explained that the event was memorable even though she herself is not eligible to vote.
"It was honestly one of the coolest experiences that I've had because I was able to actually talk to [a person] that previously had [represented me] and is now running to represent me again in Congress," Krasnik said. "I can spread my experience, [to those who can vote about] how it was talking to [Schneider] and listening to [the candidates] in the debate."
According to Whipple, it is important for citizens to be active participants in this race by interacting  directly with their  Congressman,because even in a presidential year, the representative voices the 10th District's interests in Congress. He says that the senators are tied to the entire state in ways that make them more distant.
"[Our representative] needs to hear us out on things like federal education policy, federal healthcare policy and all of the issues that we hear about at the presidential level [that will] resonate here in our community," Whipple said.
Dold and Schneider are engaged in one of the nation's few competitive congressional races, according to Kane. He explained when the candidates ran against each other in 2012 and 2014, the margins of victory were slim and therefore will probably be close in this race as well.
"It's exciting that we get one of the [races] that could go either way," Kane said. "Nobody has any clue who's going to win."