Annual Spring Fling requires thoughtful preparation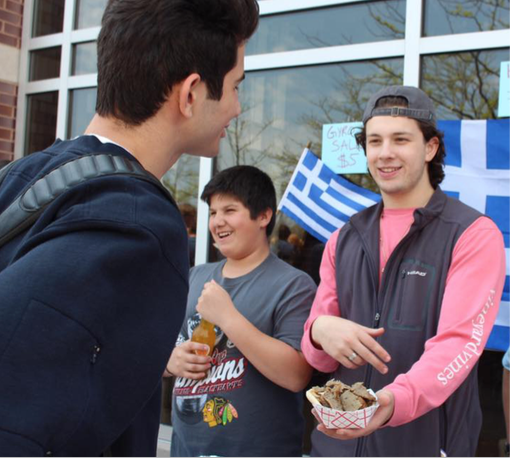 Spring Fling, under the direction of Student Council, took place May 6 during all three lunch blocks in the autos courtyard.
According to senior Clayton Nimz and junior Harrison Kane, all planning for the event was completed by Student Council. Nimz says that planning included calling to reserve all of the services, and completing tasks like making the t-shirts. Kane also says that Student Council was divided into different groups, each responsible for a different aspect of Spring Fling.
"There are groups in charge of getting the [equipment] for the DJ and the [activities]. [Other] people are in charge of talking to clubs [regarding] food," Kane said.
Some of the activities included a dunk tank, henna hand painting and a giant inflatable obstacle course, alongside food choices not normally available in the cafeteria. Greek club provided gyros while other options included a food truck or barbecue-style entrees. Entertainment included a DJ and bands from GBS.
Kane said, "[Spring Fling] is basically a time for people to go outside, hang out, and have a mini carnival at [their] own school."
Kane says that Student Council has talked about changing the timing of Spring Fling but decided that having it at lunch is the best option for most students.
"We talked about having [Spring Fling] all day but [Student Council] realizes that people can't [come] throughout the day," Kane said.
Spring Fling is the only event that is planned by Student Council that is not raising money for any type of cause, according to Nimz.
"There is no obligation to give money, there is no stress," Nimz said.
According to freshman Kelly Skoulikaris, Spring Fling is successful due to the fact that it is all run and put together by other students.
"[Spring Fling has different aspects] that specifically engage the students," Skoulikaris said. "[Student Council] knows the [students'] interests."
Skoulikaris also said that Spring Fling is an event that draws in all types of students.
"By having students run [Spring Fling] it shows how GBS comes together as a community," Skoulikaris said. "The different [social groups] get to interact [with each other]."
According to Nimz, the goal of Spring Fling is to give the students a break from their normal school day to do things that they will enjoy.
"[Spring Fling] is really the one opportunity of the whole year to [step back and say] 'well, let's just make [students] happy,'" Nimz said. "I think we do a good job with that."