Wegley reflects on time as South principal as year comes to a close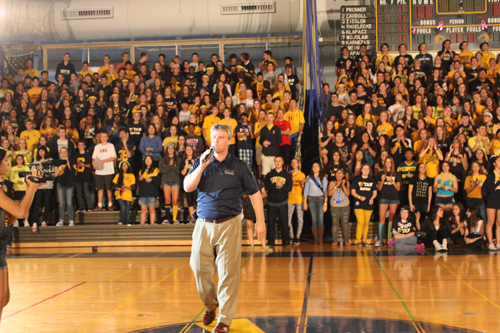 Hang on for a minute...we're trying to find some more stories you might like.
As announced earlier this year, Principal Dr. Brian Wegley will become superintendent of District 30 and leave GBS at the end of this year. Before his time is up, he reflects on his experience as a Titan.
One memory Wegley recalls is a pep rally during the first game of the 2008 football season against GBN. During the rally, the student body was told a story about GBN students "kidnapping" Wegley and Athletic Director Steve Rockrohr. Wegley and Rockrohr landed on the football field in a helicopter after being "saved" by Tommy the Titan.
"We got to say,  'the Spartans are good men, but the Titans are gods,' [as we exited the helicopter], and we just had so much fun with that," Wegley said.
This experience is one example of the many ways Wegley has been able to relate to students throughout his time at South. He says that the bridge between himself and the students is one of the most rewarding parts of his position.
"I have the huge advantage [as principal] of being connected to students," Wegley said. "I get to be a part of homecoming and everything that is just energizing and [it is] awesome to get to know [the South community]."
Wegley says that one of his favorite things about working in a high school for 27 years is seeing students grow from freshmen to seniors.
Alongside seeing the students come and go through South, another quality that Wegley loves is the unique welcoming atmosphere. He says that the culture of South is based upon the students. Wegley hopes to bring a piece of that to District 30.
Wegley considers himself nervous about starting his new job. However, he says it inspires him to work harder. Despite changing districts, Wegley is eager to begin his work as superintendent.
"The thing I really like about District 30 is that I will still know a lot of students, teachers and parents," Wegley said. "In a lot of ways, it's the same role."
Wegley takes the most pride in the careful decision making process he has always used, allowing him to ensure his decisions are in everyone's best interests.
"There is not a single thing that we have done that we haven't stepped back and asked what's best for our students," Wegley said.
Wegley's parting words to South students are to know their own worth and to follow their passions.
"Realize how good you are," Wegley said. "Follow your passion. Find out what you love to do and then figure out a way to get paid for it, not the other way around; don't seek money and then hope you're going to be happy. That doesn't happen. Seek a job that drives you. Know you make a difference. Then, you'll persevere because you're driven; you're doing something you love to do."