Data confirmation moves Board towards next stage of process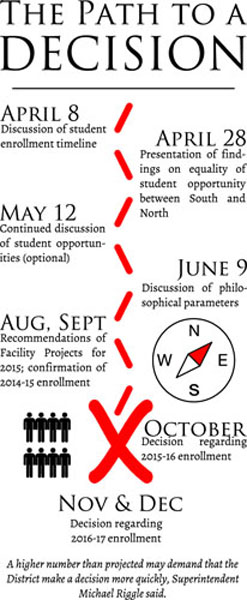 Hang on for a minute...we're trying to find some more stories you might like.
Demographers hired by the District projected South's enrollment to surpass its 3,100-student capacity by the 2017-18 school year, according to data presented at the March 17 Board of Education meeting.
After significant increase in South's enrollment in the next few years, both demographers projected that for about a decade, it will plateau until it begins to decline in 2021.
"The way I look at a decade is 2.5 lifetimes of a school," Principal Dr. Brian Wegley said. "They can say, 'Well, it's going up and then it goes back down,' but every four years is a lifetime for a high school because you completely cycle through a whole group of students' experiences."
The Board's next step is to analyze the impact of the enrollment disparity on student opportunity at South and North, Superintendent Michael Riggle said. At the April 28 Board meeting, the Board will discuss data that evaluates whether or not opportunity inequality exists between South's and North's courses, athletic teams and other extracurricular activities.
"There's not a perfect number of students in a school," Riggle said. "Larger schools can have advantages from a curricular standpoint; we just want to make sure that they don't have any disadvantages."
In addition to a Board meeting designated for student opportunity, Board member Steve Boron suggested a meeting for public comment before the Board suggests solutions.
In order to give the public another space for comment, the District designed an online form where members of the community can express any concerns they have about the issue. The link can be found at an icon in the bottom left corner of the District website, called "Enrollment Initiative." In the first month since its launch, the form has garnered approximately 75 responses that express opinions all across the board, Karen Geddeis, director of District public relations, said.
When the November 2013 District projections put South over capacity by the 2016-17 school year, rumors began to spread in the community about a Board plan to change District boundaries, Geddeis said.
According to Beth Shabelman, a mother of two students in District 30 schools Willowbrook and Maple, as soon as the issue was introduced to the public, members of her neighborhood assumed that the boundaries would be changed and their homes, which sit close to the border, would become North territory.
"Everybody was on edge […] and I think some people feel very strongly, 'Why me?'" Shabelman said. "I think it's people's immediate reaction."
However, Riggle said the Board has not begun discussing solutions, including rezoning, but they plan to soon (see graphic). This conversation would breach rezoning, giving the District a direction as it forms solutions.
Within the discussion of rezoning, the Board must consider whether they wish to continue with the "communities of interest" model, which maintains that Glenview residents attend South and Northbrook residents attend North, Riggle said. Although the unequal size of the communities has always meant unequal student populations, the Board must decide whether the gap is now large enough.
"We've seen hard data; now the Board really needs to think about that data, think about what it means," Geddeis, said. "The question becomes, 'Do we need to do anything?' The answer may still be 'No.'"
While inaction is one potential option for the District to consider, others include constructing an addition onto South or creating programs so that some students take classes at North, Board Member Scott Martin said.
Lynne Sorkin, a District 31 mother and architect specializing in educational structures, spoke at the April 8 meeting on behalf of approximately 50 families urging the Board to consider alternatives to rezoning. These community members come from District 30 and 31, which educate students from both Northbrook and Glenview.
"My family has spent 12 years in this home and this community doing everything 'Glenview,'" said Jennifer Gemingani, mother of three students in District 31 schools. "Had we known this home was going to be potentially [North territory], we might have made some different choices."
Shabelman said that she worries that the District may not have started this conversation soon enough, which may result in the students entering high school in 2015 not knowing what high school they're attending until well into their eighth grade year.
"I understand where the rumors are […] from, and I think people want to know, 'Is boundary change on the table?'" Geddeis said. "I think anyone on the Board or Dr. Riggle could tell you, that's never off the table."

About the Contributors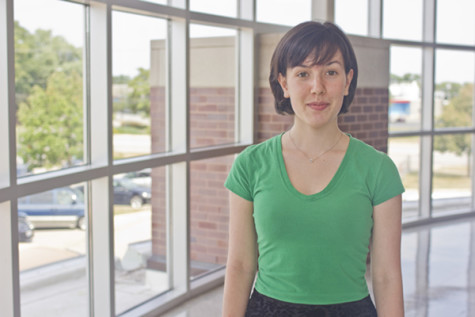 Julia Jacobs, Co-Editor in Chief
Julia Jacobs is a current senior and Co-editor-in-chief of The Oracle. Julia started her career on The Oracle as a news reporter for two years followed...