Woodworking class provides real-world applications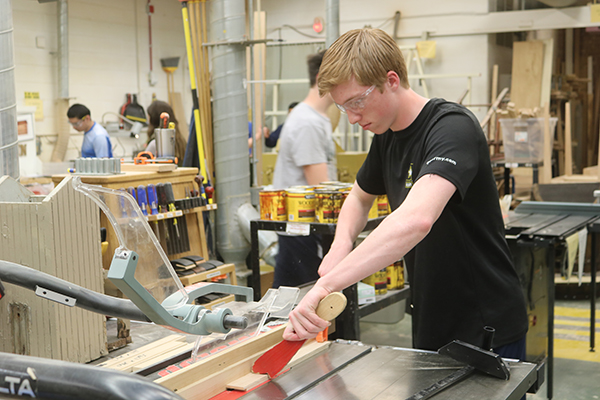 Music, sawdust, and laughter fill the energetic atmosphere of the woodworking room, where students make projects and memories. Students feel the positive environment of the class and chat about their day as they progress on their projects. Woodworking Teacher Stephen Silca assists students with their creations and gives them insight into the things that he has learned from his experience.
Silca's passion for woodworking started when he first went to Springman Middle School, where he took the woods courses offered there, as well as all of the woods courses at South when he was a student here. Silca says he wanted to take his new found passion to the next level, so when he was 14 years old, he created his own woodshop. As an adult, he waited seven years to become a woodworking teacher at South, according to Silca.
"Little did I know as a teenager that I would have the great fortune to turn my avocation into my vocation and dream job," Silca said. "It is no overstatement to say that I was overjoyed to have landed my one true dream job."
There are four levels of Woodworking classes at GBS. In Woods I and Woods II, students work on guided projects, and in Woods III and Woods IV, students are given much more freedom regarding their option to choose what projects they do. He has seen some stunning projects this year, and one of his favorites was a big hammock that was made by a student enrolled in Woods IV, Silca says.
Senior Ryan Meyers says he has enjoyed taking all four years of Woods, and says he has found the class to be a good break from his academic classes. He is taking Woods IV as well as being a lab aid for a Woods I class, assisting Silca, he says. Meyers says he enjoys making projects that will last beyond high school. The creative nature of the class inspired him to craft a writing desk.
"Learning new things, new techniques for joinery and there a lot to learn and I'm still learning every single day in Woods four," Meyers said.
The Woods room can be an escape from the common core classes, sophomore Hunter Weisensel says.  Instead of listening to teacher lectures, they are able to make and do things, Weisensel says. The different teaching style and interactive nature of the class provides a break in the day, he says.
"This is one of the few classes that you can actually use in the future," Weisensel said. "When, in the future, you get your own place and you need some new furniture, you can just make it. It's a lot cheaper."
Through Woodworking class, Silca says he's able to see the same pride, fulfillment, and satisfaction in his students that he feels when he completes projects. Weisensel emphasizes how he is proud to take home his pieces of furniture once they're complete. Silca asserts that he is thankful to have a job that gives him the opportunity to help and see students feel accomplished and reach their goal, as he once did.
"My favorite part is seeing them experience the same fulfillment that I have," Silca said.
Clayton Finzer, a junior Woods III student, has enjoyed the class and wants to apply his skills into a internship with a construction company over the summer. Finzer says that he wants to apply what he's learned in Woodworking when he becomes a homeowner. Even if students do not want to pursue woodworking as a career, Silca says he loves that the activity is accessible to everyone.
"[Woodworking] is a universal thing [it] doesn't matter if you're a boy or a girl, or if you've done hands-on things before or not," Silca said. "Or if you consider yourself into technical things or not. It's a pretty universal thing."