South students work fast food jobs, find fulfillment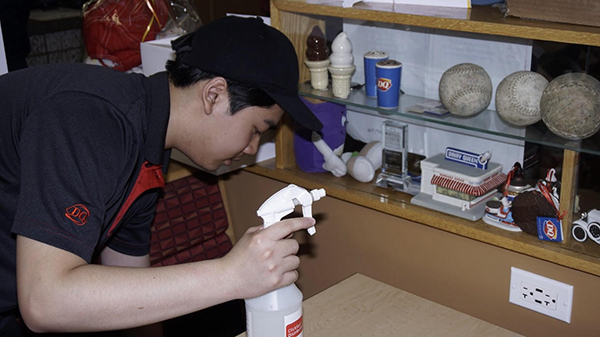 Sophomore Katie Durow bops her head to her music as she heads to Dunkin' for her 6 a.m. shift. Despite the early wake-up, Durow smiles as she watches the golden sun begin to rise across the horizon, looking forward to this peaceful start to her day.
Durow, who has been employed at Dunkin' since last November, was originally drawn to the friendliness and flexibility of the workers when she was searching for a job opportunity. Durow continues to be happy with her choice every day and would recommend this experience to other students at South.
"I would recommend getting a job to any teenager who is willing to work hard and get a taste of the responsibility they will have later in life," Durow said.
However, her job does not come stress-free, Durow says. She typically works at one of three stations: coffee, sandwiches, or cashier. Durow explains how her job can affect her life outside of school.
"Working a job has affected my social life as in I don't have as much time to spend with my friends," Durow said. "But working a job is manageable with extracurriculars and homework."
Likewise, sophomore Marcel Hoang agrees that he is able to easily balance school and his job since he only works on the weekends. Hoang started working at Dairy Queen in April, and after a few weeks of training and hands-on experience, Hoang says he could not be more excited to continue learning all there is to know about his job. Even though he works for minimum wage, Hoang claims the pay does not affect the outlook he has on his job.
"I have other benefits, such as free food during the job," Hoang said. "I'm not really working for money; I just thought it'd be good for the summer as something to do and not lay around all day."
Yet, Hoang admits that the late nights spent cleaning up and the occasional  pesky customers can be frustrating.
One time, Hoang explains, two customers were harassing a worker until they were asked to leave. When they stayed in the parking lot, Dairy Queen employees had to threaten to call the police until the customers left. Despite crazy occurrences like these, Hoang explains that he feels fortunate to meet so many new people at his job and work in such a welcoming environment.
"Everyone [at Dairy Queen] is really friendly; there's not a hostile work environment at all," Hoang said. "Everyone's supportive, and they know how to help and teach you. They don't just look down on you if you're new."
Freshman Stephen Woo agrees that everyone at McDonald's, where he has been working for two years, is very respectful and helpful towards him, even when he was the youngest one there. Woo feels getting his job at McDonalds was a great first step into adulthood and is a fun way to make extra money. However, he does not deny that his job can be stressful during the busy afternoon.
"You have to manage a lot of stress during the time when you're dealing with people, like when you're the cashier," Woo said. "It's pretty stressful to see two lines of people almost out the door; you have to work fast and efficient."
Despite the challenges, Woo says he enjoys his job, which has allowed him to meet new people and take a break from schoolwork. Additionally, he feels his job provides him with a very beneficial experience in the workforce that he is fortunate to have.
"Even though [McDonalds] is just one business, it's universal to see how customers act and how you should act when you're working," Woo said. "[Working at a fast food restaurant] gives you a lot of experience."