National Autism Awareness Month promotes inclusivity at South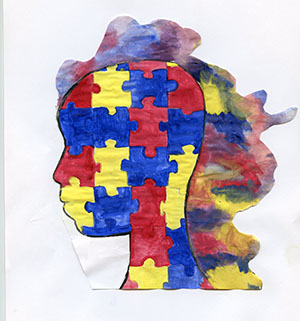 Leah Dunne and Sofia Snyder, co-editor-in-chief and co sports editor
April 20, 2018
1 out of sixty eight. This is how many children in the United States have autism spectrum disorder, according to Autism Speaks. In order to spread awareness about autism, the month of April as well as the color blue is dedicated to its cause, according to Autism Speaks.
As stated on Autism Society's website, autism is a developmental disability that is typically diagnosed during early childhood. As a spectrum condition, people who have autism are affected in varying degrees. Often times, people with autism have trouble communicating, difficulty making eye contact and holding conversations, according to Autism Society.
As students returned from spring break, Interact covered the school's lights in blue foil to start a conversation about Autism Awareness Month, Interact President Christian Pareja says. According to Pareja, along with the blue lights, Interact had a table during all lunches where students could read different facts about autism and sign a puzzle piece, which is the national symbol for autism.
According to Mark Gallagher, Interact club sponsor, an announcement was read in the morning on April 5 to celebrate the work of Carly Fleischmann, a woman living with autism who is dedicated to spreading awareness about her condition. Pareja hopes that through highlighting the work of people living with autism, people can see that those with autism are capable of being successful.
"My goal is that at the end of the week, people will be able to have a better sense of it's not us and them but it's all of us together; we're all equal," Pareja said.
Junior Lauren Bianco has a brother with autism who is currently thirteen years old. She says that when he was first born, their parents noticed that he could not hold eye contact with them, which led them to take him to the doctor. Then, according to Bianco, at the age of two,  he was diagnosed with autism. According to Bianco, when her brother was first diagnosed, doctors told her family that he would never be able to walk or talk. However, she says that now her brother is high-functioning and social.
"A huge thing about autism is the social aspect, so because he knows me, he's comfortable talking, but when he's with someone he doesn't know it seems like he doesn't have good social skills," Bianco said. "So, it's important for kids to understand the differences so they can be friends with these kids rather than just being like 'hi,' and that's it. They're all kids so everyone should be together and not separate."
Sophomore Mary Jane McNary also has a brother with autism. She says that he was diagnosed at eighteen months and has been attending a residential school in Wichita, Kansas since he was 8 years old, and is now 18 years old.
"I only see him at least maybe twice a year," McNary said. "So [my relationship with him] is very unconventional from other relationships that other people might have with their siblings, so that can be really tough. But definitely when he is home I try and spend as much time with him as possible. Even though he can't talk to me, I know there's a strong relationship there."
McNary says that her hope for this month is that people gain a better understanding of what autism is. She believes that people often stereotype those with autism as all being the same due to their lack of knowledge about the differing degrees of the condition.
"People don't realize that autism is a spectrum, that's why it's called autism Spectrum Disorder and it can range from so many things," McNary said. "Someone could be sitting in your classroom, in a regular classroom, and have autism but you would never know. I think it's important to be sensitive to anyone with it because you don't know who has it, or if someone has a relative with it."
Mark Dec, special education teacher, has a son that was diagnosed with autism in 2003. He made the decision to change his career from business, which he had been in for fifteen years, to special education after being inspired by the teachers who helped his son.
"What I needed to be doing was working with kids who were different from other kids; when something like [autism] happens [in your life] your value system changes, and for me that's exactly what happened," Dec said. "The things that were important to me were no longer important to me, so I went back to school and my wife at the time was very supportive because not everyone in their early thirties can pursue an entirely different career. There's no question my son's responsible for that."
Both Dec and Bianco say that during the month of April, their families replace all of the lightbulbs in their house with blue lights to show their support for autism awareness. Senior Grace Rodriguez, whose cousin has autism, says that outside of the month of April her family supports those with autism by volunteering at a home in the city for young adults living with autism. Rodriguez adds that she feels it is important that people with autism interact with others in their community.
"Outside of school they're not being locked away from everyone: that's just not how life works," Rodriguez said. "They know they're different. They don't know what they have but they obviously know they're different, but they still want to be with other people."
Principal Dr. Lauren Fagel says that her niece has autism and believes that it's important for everyone to see that a diagnosis isn't who the person is.
In 2008, the cases of autism were one in 88 and now are up by 30 percent, according to Scientific American. For this reason, Fagel believes it is important that people become more educated about Autism.
"They're more than just autism, or ADHD -or whatever it is that they have been diagnosed with; that's not who they are, that's something that's just a part of their life," Fagel said.
Dec says he makes sure to familiarize others with his son so they are comfortable around kids with his condition. According to Dec, he has noticed the difference in how people react to his son, and hopes that more awareness about autism is brought.
"When [my son] was younger, I was nervous about how people were going to perceive him or if [he] was ever going to be accepted, now all of those things have gone away," Dec said. "In the past, people would come up to me and say I need to work on [my son's] behavior versus now they will just leave it alone. As the generations go on and more awareness is brought, less of those stares happen, less of those comments are made."