Overwhelm of student stress calls for relief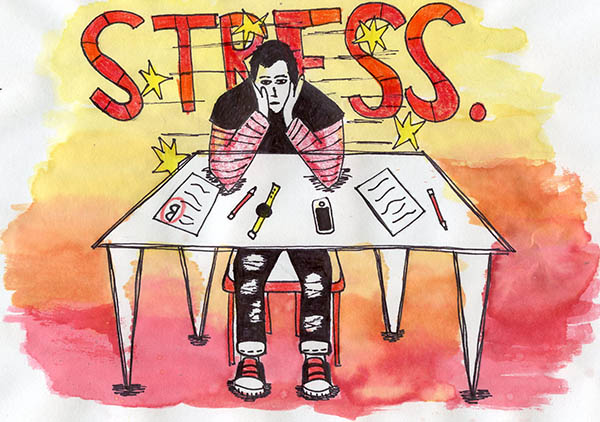 Stress. It is the six-letter word that creates the idea that "I can't", according to South social worker David Hartman. It is a word that connotes to a lot of sacrifice whether it be sleep, social relationships, or mental health, Hartman said.
Lauren Stump, South social worker, defined stress as a positive or negative feeling that students experience that can be related to things going on in their social life, their family life, and things brought up emotionally.
"Stress is something that people experience when they have something going on that they are worried about [or] that they are anticipating, whether it is positive or negative," Stump said. "How people view it depends on the situations and how the person interprets those emotions."
According to Hartman, the number one cause of stress is that people have so much to do and very little time to do it, and the expectation is that whatever they do has to be great. Hartman believes that too frequently, parents are not helping their kids struggle, rather they are giving their kids the answers. He said that the pressure to be successful is enormous in the community.
"We live in a community where the expectations are different," Hartman said. "There is this two-fold problem. We are not teaching our kids that failure is an opportunity to learn, that struggles are an opportunity to grow. We are teaching our kids: I'm going to help you handle that."
According to sophomore Emily Wyngarden, she feels the need to work hard and do her best at everything because she wants to build those habits and have a good record for junior and senior year.
"[There is] an unspoken pressure to get good grades [because] I want to go to a Big 10 College," Wyngarden said.
According to an unscientific Oracle survey, 87% of 275 surveyed South students say that homework, tests, and school-related work are the major causes of their stress. However, for senior Lesly Zavala, the stress of homework and schoolwork is nothing in comparison to the current personal stress she faces regarding her mother.
"My mom is an immigrant, undocumented in the United States," Zavala said. "So there has always been this stress, especially now with the new presidency. [There is the] fear of coming home one day after school, after [cheerleading] practice, and my mom not being there because I never really know."
Stump believes that all students have coping strategies to help them, but how students use those strategies are different. Stump said that some of those strategies may be more positive and proactive than others.
"I think that having a balance between their responsibilities- having a balanced schedule, social life [and things]  they like to do outside of school [will help to reduce the stress-level]," Stump said. "The more a student has a balance in those areas, they will feel less overwhelmed."
According to Hartman, students at South use many different coping strategies to help relieve their stress. Hartman said that strategies such as eating candy, exercising, listening to music, playing with fidget toys, and talking to therapists can help in alleviating stress.
"Sometimes kids need a place to put their physical energy so that I can help with their cognitive energy," Hartman said. "It is easier for some kids to fidget with something and be able to talk."
Freshman Katie Durow was a member of the swim team in the fall, and currently participates in Marching Band, Choir, Drama, Model UN, the Winter Play, and Young Life. According to Durow, her extracurriculars allow her to forget about her schoolwork and have fun even if it is for a little while.
"When I am at those activities, I forget my stress and I get to let go and have fun whether it is singing or exercising," Durow said.
Stump recommended that students use the supports around them to help them alleviate their stress whether it be social, academic, or emotional stress.
"If it is academic stress we encourage students to talk with their teacher, to use the TLC, to be organized, and use positive executive functioning skills," Stump said. "If it is stress related to peers or relationships, we encourage students to access support through student services."
Zavala believes that students should handle their stress with an open mind. According to Zavala, stress is something that drives a student to succeed and can be channeled in a positive way.
"At the end of the day, things have to get done and they are going to get done, but the only thing in the way is your mentality, and once you have your mentality organized, the rest of your life will be organized, as well," Zavala said.