Students take multiple classes within departments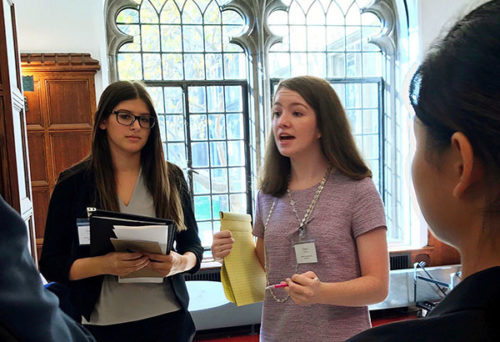 As students structure their schedule for the upcoming year, almost every student will hear the strict words, "eight classes maximum." Not many students decide to take multiple classes in the same department, possibly for reasons regarding intimidation of the workload, lack of interest, or requirements for taking other classes. So why would students decide to immerse themselves in this supposed difficult schedule?
According to an unscientific survey conducted by the Oracle, 14 percent of 270 students are taking multiple classes in the same department. Among these students is junior Songhee Back, who is currently taking Medical Technology and STEM Biology. According to Back, she wanted to take multiple science classes for her love of the subject and passion for the STEM field.
"Personally, I always knew that I was going to go into a STEM field whether it was science, technology, engineering, or math," Back said. "I wanted to take as many science classes as possible."
Other students, such as junior Maddy McGrath, take multiple courses to benefit future careers. She aspires to pursue a career in the government where she believes her classes will benefit her. McGrath believes classes like AP U.S. History and AP Government give her greater insight into a subject she hopes will help her in pursuing a career in the government.
"I definitely want to do something government related in college, so that's why I wanted to take AP Government," McGrath said. "AP U.S. [History] is required, but I figured that since I'm interested in history and that sort of field, that I would pursue it at a more advanced level. I know that the courses I'm taking right now will be relevant in whatever I want to do in the future."
Senior Justin Kwon is taking three math classes including AP Statistics, AP Computer Science and Honors Advanced Topics. He claims that his knowledge isn't the only thing that has helped him grow towards his goal of majoring in economics. His goal has also progressed by the experiences and relationships he has formed with his teachers.
"Mr. Karlovsky was my sophomore math teacher and is one of the math team [instructors] that I talk to a lot," Kwon said. "He wrote me my letter of recommendation for college."
At first, McGrath thought an SRT would be necessary regarding her two AP History classes. But she has quickly learned that not having an SRT has helped her learn to manage her time. She claims that she made the best decision removing her SRT, which has allowed her more room to take these classes.
"Going into the year, I expected that taking two history classes without an SRT would be insanely difficult because of the workload," McGrath said. "But I've come to find that with a busier schedule, I'm able to manage my time better because I know I have no time to waste."
Back claims that the science courses she is taking have proven to be valuable and productive for her. By taking these classes, she has been able to explore multiple areas of science to gain a better understanding of what her interests are. She declares that she would take even more science classes if given the chance.
"If I could perhaps take nine classes instead of the school putting the limit on eight, then I would be taking another science course," Back said. "I would be taking four science classes if I could."
According to McGrath, her history classes have resulted in multiple positive outcomes, including the people she has gotten to know. She claims that if she chose not to work these classes into her schedule, it wouldn't have been easy for her to meet the many valuable, and strong connections she has made in the Social Studies Department. Her history classes have exposed her to students in different grade levels with commonalities in their interests with history.
"I'm one of two juniors in my AP Government class, which has helped me become friends with a lot more seniors," McGrath said. "I've definitely grown closer to the Social Studies Department in general."