McInerney facilitates Test Center, finds passion for guitar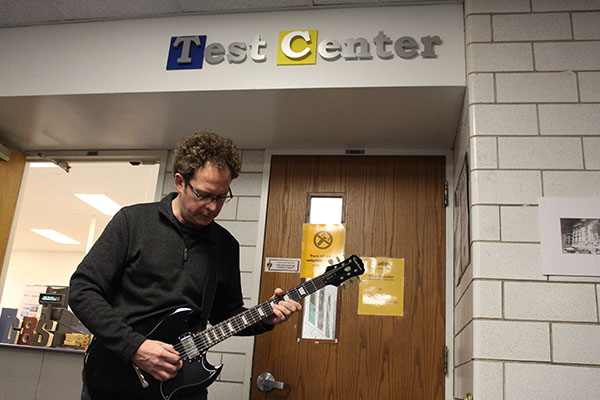 One of the most painstaking and demanding logistical operations in the building occurs in the Test Center, according to Margaret Balabanos-Bank, Dean's Office Assistant. Amongst the turmoil stands William McInerney, a man often misunderstood for simply doing his job, according to Balabanos-Bank.
McInerney says he has been in charge of the Test Center for eight years. He says teachers send tests and quizzes down for students to make up on a daily basis. Last year, according to McInerney, over 19,000 tests were processed, many of which included materials with special circumstances such as extra time, notes or two parts.
An incredible amount of organization goes into handling the sheer volume of tests and quizzes the center receives, according to Balabanos-Bank. Balabanos-Bank, who switches off with McInerney in the Test Center, believes his way of keeping things in order is a reflection of who he is.
"He's very meticulous," Balabanos-Bank said. "[He is] so organized, so detail oriented. Everything [in the Test Center] is very specific."
According to McInerney, teachers are not shy when it comes to voicing their appreciation. He says teachers are confident in what the Test Center provides them with: a reliable place students can make up missed tests in. If they need additional information about a specific test or student, McInerney says he has that information at the drop of a hat.
"[In the Test Center,] I have to function as teachers' eyes and ears," McInerney said.
Students often tend to misunderstand McInerney's intentions, according to Brian Shaoul, friend and transitional studies teacher.
"I think students misinterpret his direction as being mean or strict," Shaoul said. "I don't think there's such a thing as being too strict or mean when you are administering someone else's test."
According to McInerney, communication isn't always as straightforward with students as it is with teachers due to this misunderstanding.
"[Students are] coming into an environment that's very controlled, and it needs to be," McInerney said. "[Nothing is] directed at them personally [but I think sometimes students] tend to think that if you tell them to do something it's because they did something wrong. Sometimes that can create friction."
Although the way he conducts his work is sometimes misunderstood for being strict, McInerney is the opposite outside of school, says Balabanos-Bank.
"Students are sometimes surprised [when they talk to] Mr. McInerney [outside of the Test Center] because they think he's strict," Balabanos-Bank said. "He's a big Star Wars fan so he'll go to Comic Cons and then he plays the guitar in a band. As much of a Type A personality he is in there, in his personal life he's laid back and knows how to relax [which I think is] kind of cool."
According to McInerney, forming relationships with students is sometimes a difficult aspect of his job. He says those who know him enjoy his sense of humor.
"I can't really futz around too much [in the Test Center] and there's a personal cost too because it doesn't give me a chance to be as social with kids as I'd like," McInerney said. "I think, generally, people find me very funny but I guarantee that most of the kids I interact with here [wouldn't agree]."
According to Shaoul, students need to try and be more open-minded if they are to make their experience in the Test Center more cordial. As a close friend of McInerney's, Shaoul says there are many interesting aspects to his life.
"[Mr. McInerney] is a very caring person and I think students really need to try and get to know him a little bit better [if they want to] have a better experience," Shaoul said. "He's a very interesting individual. Sometimes we jam together."