Eagle Scouts promote leadership skills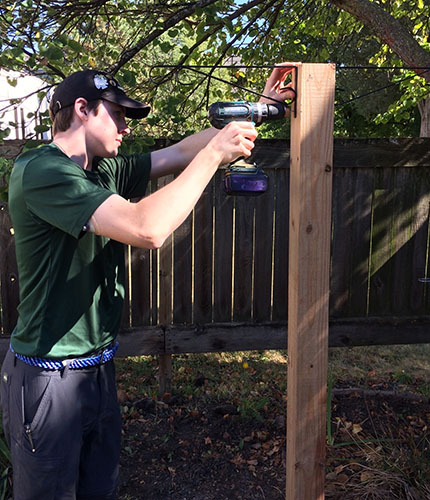 Life Scout George Wood hammers away at a new deck for the Glenview Methodist Preschool. On the other side of town, Life Scout Colb Uhlemann rests on one of the benches that he just installed for the Grove. Both men are aspiring  to be Eagle Scouts through their community service projects.
The bulk of this process is the Eagle Project, which, according to eaglescout.org, "must demonstrate leadership of others and provide service" to the community. The road to becoming an Eagle Scout, the highest rank of the Boy Scouts of America (BSA), began for seniors Wood and Uhlemann when they joined Cub Scouts in 2007. Uhlemann believes that the final promotion is a way to embrace everything that Boy Scouts embody.
"[Achieving Eagle Scout] shows that over your years in scouting, you've acquired the skills and leadership qualities that Boy Scouts hope their program will instill," Uhlemann said.
Wood has also spent the last decade working toward this prestige, moving from Cub Scouts to Boy Scouts in 2011. According to Wood, he has aimed for Eagle Scout since the beginning of his time as a scout. He cites his grandfather, who despite not obtaining the badge still wished for it, as the impetus for seeking the title.
"[My grandpa] got to Life Scout, which is the rank before Eagle," Wood said. "When I was a kid, he used to talk to me about how he wanted to [become an Eagle Scout], and I always wanted to get Eagle because of my grandpa."
Each Boy Scout rank, ranging from Scout to Life, has certain prerequisites, but the requirements for Eagle are the most stringent, according to Uhlemann. Twenty-one merit badges are a necessity, and leadership positions are highly recommended, Wood said. Both have served as senior patrol leaders, who are in charge of the rest of the patrol leaders and small groups of Scouts.
"Boy Scouts is more youth-led than Cub Scouts; all of the troop functions are run by youth and I found that by getting involved in the troop I could find some really great leadership experiences." Uhlemann said. "I feel like that's helped me grow as a person and [pushed me] out of my comfort zone."
Similarly, Wood believes that his leadership experience within Boy Scouts has been beneficial to his Eagle Scout journey.  He explains that serving as a senior patrol leader allowed him to refine his leadership style.
"I was a senior patrol leader last year," Wood said. "I got to see how I am as a leader and I learned a lot about my leadership style and I thought that was really valuable."
For their projects, Wood chose to renovate the playground of Glenview Methodist Preschool, while Uhlemann decided to refurbish the garden outside of the Grove's historic Kennicott House. Uhlemann explained that the positive feeling from achieving Eagle Scout is unparalleled because the years of work will pay off once he gets his promotion.
"It's been such a long time coming to reach this point because I joined scouts back in 2011 when I was ten and becoming an Eagle doesn't happen overnight," Uhlemann said. "All this work led up to the project and then the project went well and the next day I was like, 'Wait that's it, now I've done everything I need to do to reach this goal.'"
According to Assistant Scoutmaster Jim Murphy, he feels privileged to have worked with GBS students on their paths to Eagle Scout for twelve years. Murphy explains that he feels great pride in watching his protégés complete their projects each year.
"These are young men that are successful in many other aspects of their lives, yet still feel compelled to do something special in the community," Murphy said. 
Wood feels that gaining the final promotion of the BSA may be a double-edged sword. Despite the honor and accomplishments that it recognizes, Wood fears that achieving Eagle Scout is a signal that he is at the end of his time in Boy Scouts.
"It's sort of a bittersweet moment, because I know that when I finish Eagle I'm not going to be as driven to participate in troop activities," Wood said. "I can always say that I'm an Eagle Scout, but at the same time I don't want to move past this part of my life because I've had so much fun."
*Interviews conducted by Noah Walch and Emily Brower