Interior Design provides creative outlet for students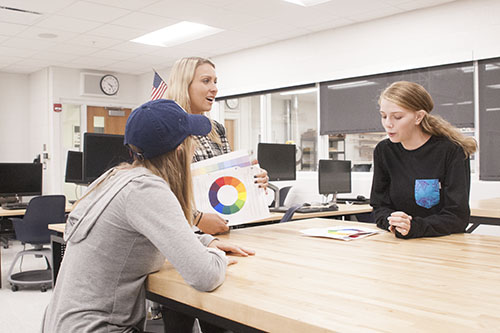 Emersed in various shades of paint swatches and carpet samples, Interior Design students find themselves facing many decisions that will ultimatley result in a room designed completely to their indivual style. This is an exact goal of the course, according to Interior teacher, Mellisa Regan.
Regan started teaching interior design at South four years ago and has been teaching it ever since. Her vision for the class was to have students involved in each step of the process, which she says includes creating floor plans, budgeting, designing for a client and being able to use their own styles in their work.
"When I came in, I had a vision for the program and really wanted to make it career-oriented, project based and hands on," Regan said. "[I wanted] to make it a realistic course where students are actually taking on the role as an interior designer versus just learning the design process."
Laura Croak is a new Interior Design teacher this year. She says she found her passion for interior design in high school, continued it through college and is now teaching the class along with Regan. She says she loves interior design because it allows students to express themselves and use their creativity.
"I feel like with interior design you can be very creative," Croak said. "There's no right or wrong way to design and [students] can do what [they] want with [their] projects."
Junior Chloe Konrad explains that she not only had the creativity to design how she wanted to in class projects, but she also had a lot of freedom during projects to make all of the design and budget decisions as well as use her own design style.
"All that she gave us were the dimensions and the budget and we chose everything from the colors to the feel to everything else in the room," Konrad said. "She wasn't right behind us telling us what to do all the time. We really got to use our own creativity."
Senior Katy Rakowski explains how during the urban condo project in her interior design class, she enjoyed the aspect of designing for a client.
"[Regan] gave us randomly this list of clients and we had to choose a client," Rakowski said. "We just basically had to design a condo based on the description of what the person wanted and then we presented them. It was a lot of fun."
As of this year, changes have been made to the program to give students even more opportunities to get involved in interior design. According to Regan, one of these changes includes a class being added to the program called Interior Design 261 which she will teach during second semester for the first time. Regan explains that she is looking forward to teaching the class for many reasons, but mostly because of the students.
"The thing I'm most excited about are the students coming in because they have taken the first level, [and] now they are coming back for more," Regan said. "I'm excited to see their visions and projects through their portfolios and [for students to] be able to showcase it."
According to some interior design students, such as Rakowski, a major reason why they continued to be involved in the program is because of Regan.
"I learned [by taking the class] that it is actually the profession that I want to go into," Rakowski said. "[Regan] has been a huge support with me in that and she's helped me figure out what is really important about interior design."
Konrad also wants to pursue a career in interior design and says that the class was exactly what she was looking for.
"[The class] was exactly what I wanted it to be," Konrad said. "Everything that we did in the class was what I wanted to spend the rest of my life doing."
In teaching her first year of interior design, Croak hopes to see her students excel in the class and be able to express themselves.
"I hope to see my students really improve and break out of that shell of not being able to express themselves in different ways," Croak said. "This is a great course to really express yourself and find out what your design style is."
According to Regan, she is constantly being inspired by the students to come up with new ideas and to make changes to the course. She loves all aspects of her job, but says that seeing students create what they do and find their passions in interior design is one of the most rewarding.
"For the students that decide to make this their career path and go in as interior designers, it's really cool as their teacher to be able to say this is where they found their passion," Regan said. "I truly couldn't imagine any other job."