Senior Project: checking in on a couple unique projects currently underway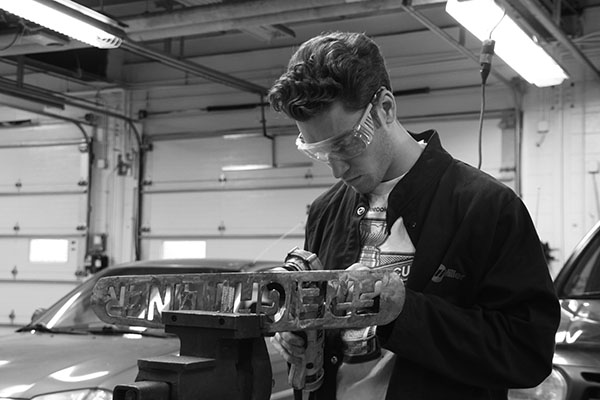 Senior project is an opportunity for seniors to independently work while exempt from normal classes on a project of their choosing for either two or four weeks.
Dasha German
Her project: a short, alternative film about depression and anxiety.
What kinds of techniques are you using to get your point across with just one speaking character in the film?
"The film is following this girl who is trying to seek help for her depression and anxiety […]. As she [progresses], it's an experimental film, so we are […] painting her throughout the film [to symbolize her mental illness] showing up kind of like a disease that is taking over her."
How does the film reflect your personal connection to mental health issues?
"I have both depression and anxiety, and I've had it for years. [In the film,] I wanted to show how bad it feels to be rejected by people in your life who love and support you, but just don't understand how much help you need."
Alex Polakow
His project: building a rideable, motorized drift tricycle that will be powerful enough to go up to 30 miles per hour.
What kinds of technical problems have you run into in the design and building process so far?
"We ran into an issue with angles on the frame of the trike, and because we have the entire day we were able to come up with a change to our original plans for the frame that removed the issue completely, and our frame is sturdier and lighter than before."
How has your project allowed you to further plans to continue in the automotive industry?
"For someone like me who wants to continue in the technical industry, there's not that many [options] at South […]. Being able to work on [what I want to do post-high school] all day is amazing."