Computer programming focuses on problem-solving, realistic issues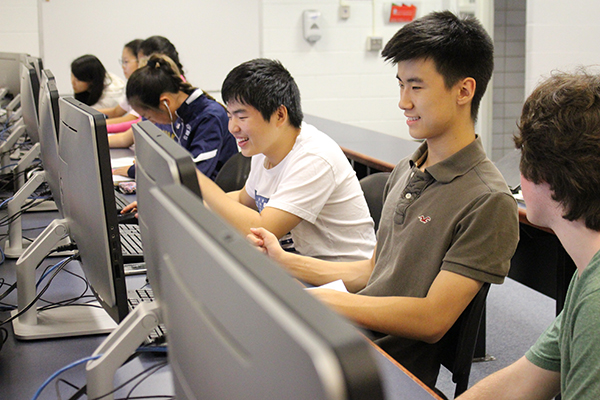 In a technology-based world, there is a constant need for computer programmers. Proving that idea, Project Lead the Way (PLTW) Computer Science courses and clubs at South have begun to grow in popularity. Coding and Computer Science are currently some of the largest programs students can take, affecting the lives of many students' relationships with technology.
According to David Rogers, Computer Science teacher, there are many opportunities at South  for students to get involved in computer science and coding through classes and clubs.
"There's two classes, the Computer Science class for honors, one semester, and then after that, the students can take a one year AP class," Rogers said.
According to Rogers, approximately 10 percent of students take the Computer Science course at some point in their time at South. He emphasized that the course is based on teaching students how to problem-solve and think through the material.
"I […] spend hardly any time lecturing," Rogers said. "I'll give students a basic idea of what's going on and then I present them challenging problems."
According to sophomore Rhea Shah, who is currently in AP Computer Science, she enjoys the dynamic of the class.
"I like that you can program things and make them by yourself," Shah said. "It [is] a self-taught class, so you learn at your own pace."
According to junior Lucas Pauker, he has completed Computer Science courses at South as well, which have led him to many opportunities outside of the classroom. Pauker highlighted his internship at a company called Triggr Health in Chicago this summer as a time when coding provided him with these types of experiences. He explained that as an intern, he worked on a production code to help the engineering team at the company.
"The problem that this company is trying to tackle is how addiction treatment is handled," Pauker said. "A lot of people tend to relapse after they get sober, and what Triggr Health does is […] it tracks everything you do […] and makes a [coded] model to try and predict when people are going to relapse based on your phone data, which is pretty amazing."
Michael Sinde, sponsor of Society of Women Engineers (SWE), accentuated some useful and interesting things the club has made, including cell phone chargers in Altoid containers, bluetooth Roombas and Segways made out of coded Legos. He explained that freshman Kate Stack has been working on a project, inspired by her peanut allergy, that uses coding in its creation.
"What she noticed is that when kids are little they don't know how to use an epipen," Sinde said. "She coded and used a teddy bear as a model to teach kids how to use one properly."
According to Sinde, junior Abby Coleman, Society of Women Engineers board member, utilizes her computer science coding skills frequently in her club. Sinde highlighted Coleman's and other members' leadership within SWE throughout the collaborative production of a prosthetic hand for a 7-year-old girl the group is working on.
"They have been printing a 3-D prosthetic hand, and they've been working with a chapter called 'e-NABLE'," Sinde said. "They're going to send it to a little girl in Miami [who is in need]. It's really awesome."
According to Sinde, computer science and coding are skills that are necessary for the future. He believes this is true no matter what a person plans to pursue as a career or at a university.
"Not every student's going to be an engineer, not every student's going to be a coder, but they're all going to need to solve problems no matter what career they go into, and coding helps them solve problems," Sinde said.
According to Pauker, coding and computer science is not only an essential skill for everyone but will be helpful in the future in technology fields.
"I think that in the future, as society gets more technologically oriented, […] computer science is going to play a bigger and bigger role in everyday life," Pauker said.
According to Sinde, the engineering curriculum is South's largest program with approximately 350 students involved. Sinde claims many South alumni positively reflect on the preparation provided to them by South's extensive engineering and computer science programs.
"I just had a student come back, and she talked about how the coding she did in high school has actually helped her code in college and how her college professors were impressed that she was using an Arduino as a high school student," Sinde said.
Sinde emphasized that students in Computer Programming and coding courses are encouraged to think outside the box and figure out new solutions to old problems. He hopes to help fuel their hunger for learning and perseverance in these types of technology-based classes.
"The question a lot of teenagers are always asked is, 'What do you want to be when you're older?'" Sinde said. "We try to get away from that and change that mindset now to, 'What problems do you want to solve?'"