South Special Education prepares for future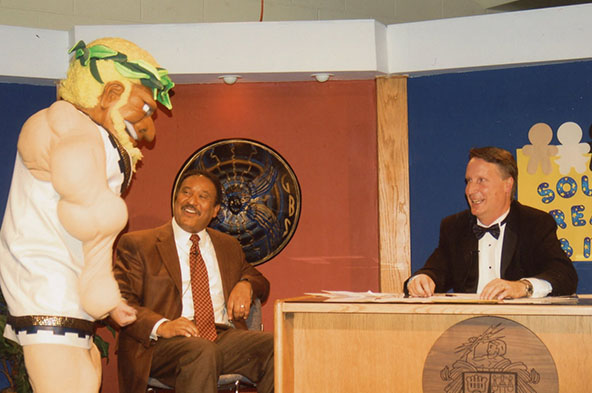 Yoon Kim, asst. photos editor
September 30, 2016
Known for its programs, staff and resources, Glenbrook 225's Special Education Department plays a major role in preparing their 250 students for their futures after high school, whether it be attending a four-year college, enrolling in a community college or registering for a training program.
According to Transitional Specialist Julie Smith, one major factor in preparing students for life after high school is Individualized Education Plans (IEPs) that are created and discussed during their years at South.
"[IEPs] might be everything from starting [a] conversation, talking to a teacher, to making sure you're keeping an assignment notebook," Smith said. "[…] Those goals are measured [throughout] the year to ensure that we're making progress in meeting those individual goals. It's sort of a second layer to education; it's like an overarching goal for the students' education."
One student who benefitted from IEPs is Jake Schmidt, a former student in the Special Education program who is now at Aurora University. In addition to having programs such as IEPs, Schmidt stated the faculty of the Special Education Department was another component that assisted him greatly throughout his high school career and supported him in planning his future.
"The faculty was bent over backwards if you needed something," Schmidt stated. "[The faculty and the whole school were] really accommodating for students with special [education] in my opinion. No matter what your request was, they would always try to work with you."
However, one thing both Schmidt and Smith agreed on was both the staff and the students' education and awareness of the Special Education Program is something that needs to improve at South.
"I think that there needs to be more education about what a disability really is," Smith said. "I think […] when people think about [others] with disabilities, they think of a person that uses a wheelchair or they think of a person who has maybe an intellectual disability or Down's Syndrome, something that is really obvious. But the majority of people that have disabilities [have] hidden disabilities."
In light of the misconception that all students in the Special Education program are high needs, meaning that they require additional assistance, Schmidt said he was able to overcome this stereotype by taking part in several extracurriculars at South.
"I was extremely involved in extracurriculars […]" Schmidt said. "My freshman year, I was student director of [the Variety Show], I was Tommy the Titan for three years and I was in Student Council my junior and senior year. In junior high, I was told that I would never be able to amount to anything, but I definitely proved that wrong during high school."
According to Stacey Wolfe, Special Education instructional supervisor, the transitional curriculum focuses on preparing students for the future by having them go out into the community and apply their skills, rather than strictly learning in a classroom.
"Our goal is for [the students'] last day with transition services to look like their first day of life after high school," Wolfe said. "We work really hard to make sure that [enough learning] can happen out in the community and in the real life environment [for when the students] are going to need to use those skills."
In addition to this, both Wolfe and Smith mentioned that another important aspect of the Special Education program is the role the parents take in regards to advocating for their children and their needs. According to Smith, one demonstration of this is an organization called TotalLink2 Community, which was formed by parents from the Glenbrooks in order to create work opportunities for these students. Through this organization, people with disabilities are given priority for work connections and partnerships, according to TotalLink2 Community's website.
"[TotalLink2 Community] started this community life project where [the organization members create] social opportunities and work opportunities for students with disabilities […]," Smith said. "It was all formed by our parents fighting for grants, fighting for money to fight for these students."
Emily Porter, Special Education case manager, reflected upon the department's goals for improvement within the transitional program. According to Porter, the program aims to help students become more independent.
"We're still trying to figure out the best way to continue having everything be individualized […] [while also] making sure that everything that we do is in the students' best interest […]," Porter said. "[We hope to] keep in touch with the student and family to make sure everything is alligning with what their vision is."