Senior lifeguards' skills put to action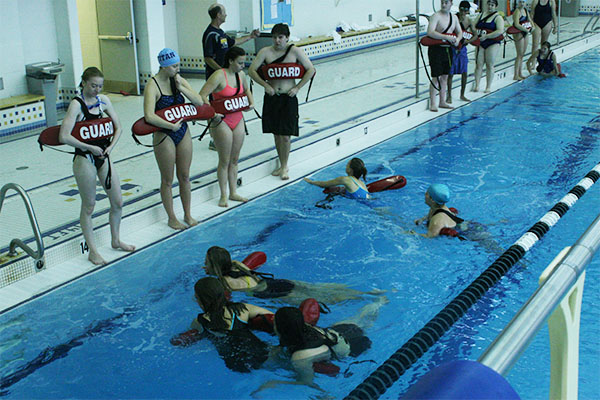 On the last morning of summer, South seniors packed the beach for a sunrise breakfast get-together to mourn the end of summer and commence the beginning of the school year.
As the sunrise began, several students jumped into the cool Lake Michigan water for fun, including one senior, James Kranzer*.
According to South senior Laurence Sabel, Kranzer, a swimmer, dove headfirst into shallow water, resurfacing with his head still submerged. After about 30 seconds, Sabel realized Kranzer was not moving and ran over to pull him out of the water with South senior Amanda Angulo.
Angulo said, "My immediate reaction, which I regret now, was that I thought he was kidding, because James is the kind of guy that pulls jokes like that. And right before he ran into the water, he said something like, 'Oh, I hope I'm not going to drown,' and it looked like he was moving because of the waves, so it took us some time to realize this was a real situation."
Angulo, along with several other students, took immediate charge of the situation, giving Kranzer medical attention and calling 9-1-1. According to Sabel, it was reassuring knowing that there were experienced lifeguards at the scene.
"We put him on the beach, and there were probably about a dozen [South] lifeguards," Sabel said. "So it was really fortunate that a lot of people knew what to do."
According to Katie MacQuarrie, South senior lifeguard, she held Kranzer's head and put him in a vice grip, which she learned from her summer lifeguard training. She was able to identify that it was a spinal injury when Kranzer said he couldn't feel much of anything in his body. MacQuarrie learned to distinguish injuries while taking the lifeguarding course offered at South.
"I was only a lifeguard for one summer before this happened, so I kind of just learned to trust my instincts and go with my gut regarding my abilities," MacQuarrie said. "I wasn't very confident in my lifeguard ability before, but I had an instinctual compulsion to act right away, and I've learned to trust that because it ended up being for the best that I was there."
Thanks to the reassuring efforts of concerned South students, Kranzer's medical needs were addressed. Looking back, MacQuarrie feels the situation ran very smoothly given the circumstances, and thinks the actions of the seniors say a lot about the class as a whole.
"I was really impressed with everyone that was there, even if they didn't do anything directly to help," MacQuarrie said. "People stayed quiet, there was no chaos, and everyone was very calm and composed. I think that says a lot about South students because we were so mature in handling the situation, and everyone was really respectful. It was a sad situation, but I look back on it and am proud of our class and all the seniors that were there because of how we acted."
Sabel also stressed the compassion felt within the senior class for one another, and how that compassion has left a positive impression on many people's lives, both inside and out of GBS.
"It shows how strong of a family we are, and how compassionate we are towards other people," Sabel said. "I think it really shows what South stands for and what we do as a class and as a school for each other."
*Name has been changed