Cure Club sponsors Relay for Life event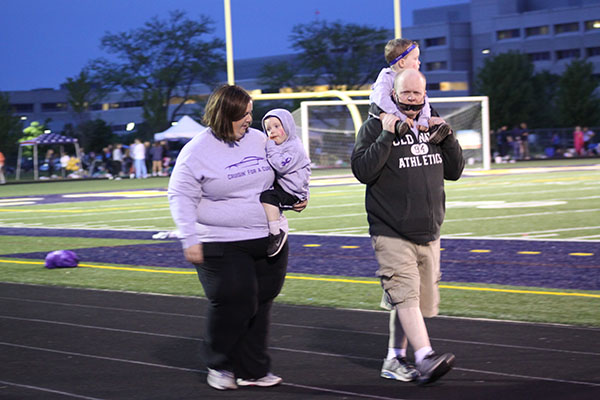 When the sun goes down, candles are lit and placed in bags around the bleachers and track in an event called the Luminaria Ceremony to honor those who have lost their lives to cancer. According to the American Cancer Society, four million people in over 20 countries participate in Relay for Life, an event dedicated to raise money and awareness for cancer. GBS hosted a Relay for Life event on Friday, May 20.
According to Deborah Stein, the sponsor of Cure Club for eight years, Cure Club is helping to organize the community event. Stein explains that Cure Club is dedicated to raising awareness and funding for cancer resea-rch.                                                     
"We work with the community committee to help promote the event within the school," Stein said. "[We try] to also help with the planning of the event more from the perspective of the things the kids are interested in."
According to Stein, people join a team and fundraise before the event. The event is about coming together to celebrate, to remember and to fight against cancer.
"Somebody from your team is supposed to always walk around the track; that's the idea: that cancer never sleeps so we never sleep either," Stein said.
Senior Ali O'Hara, who is part of the leadership board of Cure Club, has participated in Relay for Life five times, her first time being in seventh grade.
"It's really empowering, and the cool thing about Relay and Cure Club in general is it's very community based," O'Hara said. "Almost everyone has a connection to cancer in some way. […] It's something we can come together to fight against."
According to O'Hara, there are many events at Relay for Life such as the survivors lap, relay races and performers. O'Hara said her favorite memory from Relay for Life was from her sophomore year.
"[My team] walked the whole night, raised a bunch of money and then the next morning, we all drove to the beach and watched the sunrise together," O'Hara said.
According to O'Hara, she has many motivations for participating in Relay for Life, one being losing her grandpa to lung cancer.
"It's the one that's most personal for me because I always remember when I was little seeing my grandpa in the hospital bed, and I felt very helpless," O'Hara said.  "But also throughout my life, there's also been other people who've been affected [by] it."
For freshmen Nikki Dontcheva, this year was her first time participating in Relay for Life. According to Dontcheva, her motivation for joining Cure Club and Relay for Life is her mom, who was diagnosed with cancer for the second time in June.
"I was really upset," Dontcheva said. "I was really sad. […] I felt alone sort of because my mom's going through this, and all my friends don't really go through this. Coming to Relay for Life [preparations], I was joined with all of these people that have had that experience and comforted me, and we're doing something to end it."
According to Dontcheva, she has been fundraising by holding bake sales and having restaurants as sponsors. Her goal is to raise $1,500 for her team and recruit more people and make them aware of Relay for Life.
"I am looking forward to making a change and helping people that go through what I go through daily […], making them see that they are not alone," Dontcheva said.
O'Hara, Dontcheva and Stein agree that Relay for Life is important to participate in because of the benefits to the community and the awareness it raises. Strengthening support for cancer research through Relay for Life, Stein explains, also unifies the community and the people involved.
"Going to that event, it really brings together people from all different walks of life who have been affected by cancer," Stein said. "It's a very powerful thing to get together with people who have had similar or different experiences and to know we're all united and working together to fight the disease."