Community college students confront stigmas, struggle with false judgements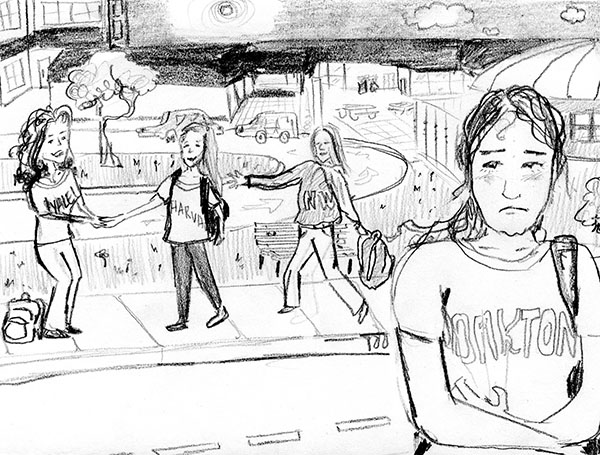 'Poor grades,' 'low quality education,' 'stupid,' 'dumb,' 'not prestigious,' 'easy to get into,' 'not an actual college.' These are all words and phrases written by South students regarding community colleges. In an unscientific Oracle-conducted survey, 220 out of 285 South students believe a stigma surrounding community college exists.
South senior Stefanie Patsas has decided to attend Oakton next year and is well aware of the many stereotypes that she must confront as a result of her decision. She feels that despite the individual's personal character, assumptions about their school of choice may get in the way of knowing who that person really is.
"I've heard so many [statements about Oakton students], like either you're not smart enough to get into an actual college or you can't afford one," Patsas said. "[These are] things that dictate who you are as a person just because of the school that you choose to go to, which doesn't really mean anything because it's how people see you."
According to South counselor Travis Myers, the strong prevalence of the stigma within South doesn't correspond to the amount of graduating seniors who end up attending a community college. Myers believes that Oakton may be underrepresented as a result of students feeling ashamed to not be attending a "typical" university.
"As you go through the halls, I think some people think that if everybody else is wearing a four-year school shirt, their Oakton shirt doesn't have as much [appeal]," Myers said. "So I think there's that idea of what others are perceiving of a student going to Oakton. And I'm not sure if that's as real as we perceive it to be because number-wise we have 15 or 20 percent of students going there."
Alessandro Berto, South alumnus and Oakton freshman, chose Oakton not because it was his ideal school but because it fit both his financial needs and allowed him two years in a community college to figure out which career path he wants to pursue.
"I did have a good idea back in senior year of high school of what I wanted to do with my life, but I didn't want to commit to a school and then have a change of heart," Berto said. "So I chose to go to Oakton for two years because I didn't want to be spending money at a place [where I didn't know what I wanted to do]. Now Oakton is helping me solidify what I want. I'm getting the same education, just at a cheaper price."
For Patsas, making the decision to go to Oakton was not easy, especially considering that her peers would attend large out-of-state universities. In addition to making the college admission decision more difficult for her, the stigmas she faced alienated her from her peers that were attending traditional four-year universities.
"I got into DePaul, and I had the chance to either accept that or defer my decision and do two years at a community college and then go back," Patsas said. "At first, I was really upset about it. I thought everyone around me was going to this cool, big school out-of-state, and I [didn't] want to be stuck at home at a community college. Then I thought about it and realized I can be in the same place as everyone else when they graduate in the next four years."
Senior Nathan Garret has also committed to Oakton for next year and has chosen to do so mainly for the academic freedom it will bring. As for the supposed drawbacks of community college, such as the lack of a formal or traditional college social life, Garret tries to keep an open mind and view the lack of partying as a positive. In an environment where it is important that a student is academically succesful, Garret predicts the lack of social life to be a beneficial aspect of college for him.
"I like the idea of community college because if I'm away from home, I might want to party a lot," Garret said. "But community college kind of grounds you and reminds you that you're just here for studying and not for partying. So that sets me on a good path."
According to Berto, the stigma that community college is not as fun due to the lack of social life can be true. However, he views fun as a relative term because he is having fun discovering what he loves and finding what he wants to pursue in his time learning at Oakton.
"It's not as glamorous as [a four-year college] and that's absolutely right, but at the same time, I'm having real world experiences while not spending as much money," Berto said. "And it's all really worth it to me in that way."
According to Myers, community college is the right choice for many students. Some students agree with him when he mentions it as an option for them yet still have difficulties accepting this choice due to the stigmas that exist. However, like Berto, many learn that the decision will best serve their futures, allowing them to succeed admirably.
"I hope that the stigma is fading because it's a really good option for students," Myers said. "I like to see the students come into my office and talk about Oakton or a two-year school because it's right for them, and [I don't] have to kind of sell it to them. And I don't know how real the stigma is, […] but hopefully we're minimizing it and changing that perception."