South students strike interest in kickboxing classes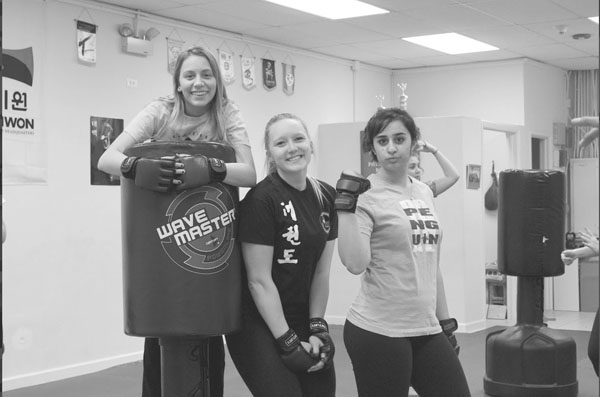 Mary-Grace Noteman, Staff Reporter
April 22, 2014
Picture this- The Karate Kid, ninjas that kick and punch, or even the Teenage Mutant Ninja Turtles. When people think of kick boxing, these may be some of the things that pop into their mind. But according to the South students who kickbox at Akyi Martial Arts, it is so much more.
According to the Akyi Martial Arts website, kickboxing teaches students agility, cardio, strengthening, power and self defense. It can also help people lose weight, reduce stress, gain self discipline and improve fitness.
"[Kickboxing] is definitely good exercise, and it's also just fun to do," said senior Juliana Minasian.
Located at 1938 Waukegan Rd. in Glenview, the Akyi Martial Arts teaches taekwondo, sparring and kickboxing. Students of a range of ages, from kids to adults, are offered kickboxing lessons.
Senior Agatha Maglalang, who has studied taekwondo at the studio for 2.5 years, recruited South students to take kickboxing. According to Maglalang, kickboxing has helped her improve her health and physical capabilities.
"I can do more than I did before [I started kickboxing,]" said Maglalang. "Physical stuff is much easier for me."
Once joining kickboxing, Maglalang said she convinced her friends to join her and currently teaches taekwondo to younger kids at the studio.
"[The kids] are so nice and they say the cutest things, and it's taught me patience […] and given me leadership skills," said Maglalang.
In addition to Maglalang, senior Janna Lyhus also kickboxes at the Akyi Martial Arts studio. According to Lyhus, kickboxing is a great activity to do on a school night to deal with academic stresses.
"It's a good break and energizing if you have to go back to homework," Lyhus said.
Master Ray Kyi, kickboxing instructor at Akyi Martial Arts, has been teaching kickboxing for a little over 10 years. According to Kyi, he wants his students to have fun and work hard.
"[I teach kickboxing] with the proper technique, but I'm always kidding around," Kyi said. "I make people laugh, so you're getting a good workout yet it's fun."
In agreement with Kyi, Lyhus said that kickboxing has helped many of the students in many ways, physically, emotionally and mentally. According to Lyhus, she likes that she is developing a skill and learning to do it well.
"Instead of focusing on lifting the most amount of weights or having to go out of your way to become fit, you're focusing more on developing a skill," Lyhus said. "[Kickboxing is about] putting the right momentums into a kick or balancing a certain way and being really aware of what you need to do in order to perform the skill well, versus the amount of repetitions you need to do to get a good workout."
Kyi believes that the workouts he provides at Akyi Martial Arts differ from the typical kickboxing practice like the ones at LifeTime Fitness or park districts. Although Kyi said that a lot of places teach kickboxing for aerobic and cardio reasons, he does it for many other reasons.
"I [teach kickboxing] for cardio reasons, but also for proper techniques and a lot of core and a lot of strength," said Kyi.
In addition, Kyi said that he gives more in-depth teaching to his students. For example, Kyi waits until his students are ready and strong before teaching them more complicated kicks. "I think our kickboxing class is a little more unique compared to all the other kickboxing classes," Kyi said.
Kickboxing classes at Ayki Martial Arts are offered on Tuesdays and Thursdays from 7:45-8:45 p.m. and Saturday mornings from 9-10 a.m., and the first class is free.