Peer mentors provide engaging learning environment for students with special needs
While capturing the mind and interest of a large portion of South's student body, the highly interactive peer mentor program has continued on the rising path after years of fluctuation. What started with just three handpicked mentors now compares to the 120 students serving as peer mentors this year.
The peer mentor program was started 26 years ago to determine whether or not peers could impact students with special needs in a different way than teachers, according to Mary Jaeger, peer mentor director. After numerous years of peer mentoring, Jaeger continues to see positive results.
"After 26 years, it still amazes me how the special needs students will perform for the peer over the teacher," Jaeger said.
In every special education class throughout the day, there is at least one peer mentor, according to Jaeger. A typical day for a peer mentor depends on the class and the number of students. According to sophomore Sam Garman, a current peer mentor, everyday tasks with the students can range from reading to mathematics to games in P.E class.
According to Jaeger, a peer mentor can work with just one student or multiple students at a time with each activity. The peer mentors get the students started, on task and engaged.
Peer mentors can also assist in the Adapted Physical Education class, a gym class for students with special needs that offers more adult help. According to Dawn Fendt, physical education teacher, the class is also less competitive than other P.E classes.
"The peer mentors make a huge difference in my class because of the relationships between these adapted students and the mentors," Fendt said. "They don't just work with them in P.E, but [they] become friends with them during the regular school day also. Overall, the true friendships that are made that make these students feel good about themselves, that can be life changing."
Not only does the peer mentor program affect students with special needs, but also the peer mentors and teachers themselves. According to Garman, she has learned to become more patient and understanding of special needs students. Also, peer mentoring has interested Garman in the possibility of becoming a special education teacher.
Similarly, junior Quinn Abrams' two semesters of peer mentoring have resulted in a positive outcome.
"[I learned] just to accept everyone for who they are no matter if they have a disability or not because they're all great people," Abrams said. "I look at people in a […] better way now, like if I don't know them I'm not going to judge them."
Fendt continues to see a daily impact on herself in her Adapted Physical Education class.
"I could be having a really bad day and when I get to 4th period with this class, it just makes me smile and gets me back in such a great mood," Fendt said. "I think I learn more about life from these students sometimes than they learn from me."
Encompassing all the great aspects of peer mentoring, Abrams feels it's a course everyone should experience.
"I recommend everyone should do [peer mentoring] because you learn a lot from it, and I would say it's one of the best classes I've ever taken at this school," Abrams said.
About the Contributor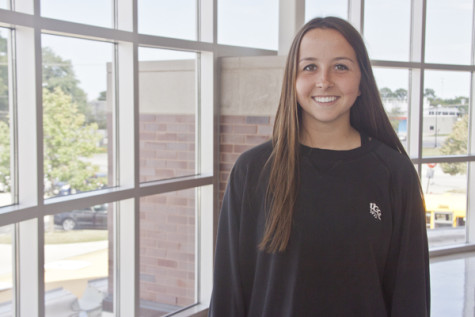 Calli Haramaras, Assistant Features Editor
Calli Haramaras has been writing for The Oracle since the fall of 2012, and she's an assistant features editor. Calli enjoys writing, as well as playing...