South Students Take on Adventure at Summer Camp
Every year, summer camp serves as a fun and safe place children can stay while their parents work. In fact, more than 11 million children and adults attend or work at camp annually, according to the American Camp Association. Parents expect their kids to make new friends, learn new things, and enjoy themselves, but what they might not expect is how big of an impact camp can have on their childrens' lives.
Mariell Demertzis
The summer before seventh grade, sophomore Mariell Demertzis went to an Wisconsin away camp, Sanari, for six days.
According to Demertzis, Sanari is a religious camp for Orthodox Greeks, and the campers went to church in the morning and night. One of the camp activities she most vividly remembers is the Olympics they created.
"We had a bunch of competitions with each other […] against the different grade levels," Demertzis said. "It was a lot of fun."
The most memorable story she had from camp came from their Olympics.
"There was a challenge where we had to carry someone across the field," Demertzis said. "So, this guy was carrying this girl and he dropped her, and […] hurt her back really badly."
Although Demertzis said she was slightly homesick, Demertzis acknowledged that summer camp taught her valuable lessons.
"When I was away, I learned a lot more [about] responsibility because I had to pick up my own stuff and take care of myself," Demertzis said. "The best part of camp was learning how to become more responsible for myself."
Jessie Vassallo
Sophomore Jessie Vassallo went to Good Times Summer Day Camp for five to six years until age ten.  According to Vassallo, the best aspects of Good Times were making new friends and experimenting with different ideas.
"We went to Kiddieland and Great America," Vassallo said. "[We went to] a bunch of fun places that I always will remember."
She learned how to swim at camp, and remembers how scared she was the first time she jumped off a diving board.
"I remember going off the diving board at Flick," Vassallo said. "The first time, I belly flopped and it hurt a lot."
According to Vassallo, one of her favorite experiences was her group's dance performance to the song "Working at the Car Wash" at the end of the summer.
"We got…a fake little car and started getting sponges and water everywhere," Vassallo said. "One of the girls tripped and fell in the water; it was really funny, though. She was on the ground pretending it was part of the show, but she was the only one on the ground and right in the middle, too."
Summer camp also affected Vassallo's life in ways she did not expect.
"We had this trust circle every other week, where if you wanted to, you could open up and share details about your life," she said.
Some of the stories the other girls shared made her view her life from a different perspective and appreciate what she had, according to Vassallo.
"[Camp] made me more aware that Glenview isn't the only place I can go—there's a world outside of Glenview, and that's really when I was introduced to the different places and things in Illinois," Vassallo said. "Camp made me like to travel."
Mackenzie O'Brien
Junior Mackenzie O'Brien attended an Michigan away camp, Camp Echo, for five years and loved every moment of her experiences.
"It pushes you to do things that I wouldn't normally have tried, like rock climbing or sailing," O'Brien said. "You do things you wouldn't normally do, and meet people you wouldn't normally meet."
Although O'Brien admitted the first year was difficult, when camp ended in the following years, O'Brien said she wanted to extend her stay.
"Everything about [camp] is awesome," O'Brien said. "I'm like a 'camp person', so I guess if you're not that type of person it wouldn't be fun being away from home for two weeks— but I loved it."
O'Brien liked camp so much that she decided to become a counselor, and this summer will be her second year as a counselor at Valley Lo summer day camp.
"[Camp counseling] was a great experience; I really love working with kids," O'Brien said. "It wasn't really a job, it was just every day I got to wake up and hang out with the kids."
According to O'Brien, a counselor must have leadership qualities to be a successful counselor.
"[…] I found things about all of [the kids] that I liked, and you have to be like that if you're a counselor," O'Brien said. "There's always drama between the kids because there will be…best friends and then the people that hate each other."
Even though she loves her current position as a camp counselor, O'Brien says she definitely misses being a camper.
"I loved the experience so much as a camper that I wanted to give it to other kids," O'Brien said. "I wanted them to have the same great experience as I did."
About the Contributor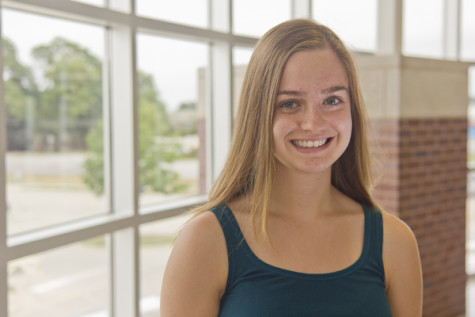 Kelsey Pogue, Co-Web Editor
Kelsey Pogue started off her career on The Oracle as a staff reporter during the second semester of her freshman year, writing for features. She instantly...