Q&A: Learning about Lara Cummings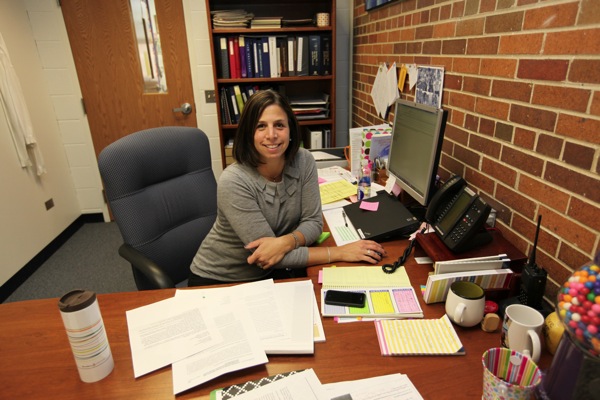 Rosie Nash, staff reporter
September 30, 2011
South has not only changed in its appearance this year but also in its faculty, as Dr. Lara Cummings joins the staff. She replaces Mark O'Brien as the new assistant principal of guidance.  Cummings answers some questions about her background, her time at South so far and her hopes for the future.
 Question: Did you work at other schools before coming to South?
Answer: I've worked in several schools. I started out working in elementary buildings. I've actually had experience all the way from preschool through [the college level]. I kind of run the range, to say the least.
Q: How did you become involved in working at the high school level?
A: When I first started I was in a preschool in an elementary building and said I would never work with high school students; like that's never going to happen. [Then I] had an opportunity to work with the Niles Township Department of Special Education working with high school students, and decided at that point I love high school; I'm never going back to preschool. I actually came from Niles North High School. I was there for six years as their Special Education coordinator and their assistant principal for student services.
Q: What caused you to switch from the special education department to the Guidance Department?
A: The opportunity to move to assistant principal, in my opinion, was now taking that special education part and combining it with the general education.
Q: From where did you receive your PhD and Masters degree?
staff reporter Loyola University.
Q: What were your initial feelings about GBS?
A: I started on July 1, so my first reaction was, 'It is so quiet around here.' I didn't have the opportunity to meet as many people as I would have liked to, but as the summer continued on, more and more people started coming in.
Q: What was your first impression of South's students and faculty?
A: It's probably one of the friendliest environments I've been in, so welcoming. It didn't matter if it was a parent, a student, a staff member; I have found that they're very accepting of new people and very willing to help acclimate myself to the environment here.
Q: What is your favorite part of your job?
A: Without a doubt, it's being with the students and being able to interact with them, in positive ways, in problem solving ways. That's what I love about my job.
Q: Why do you enjoy counseling high school age students?
A: I like having that impact and that influence on helping students start to pursue what it is that they're interested in, and to make sure that the four years they have in high school, that they make the most of it. [I want to] expose all the students to as much as possible, get them involved in as much as possible in those four years, and to help prepare them for what it's going to be like after high school.
Q: How do you relate your home life to your school life?
A: I can put myself in [the parents'] shoes, when they're calling with concerns or complaints. I can really relate to what they're going through, and understand as a parent how upset I might be in that same situation. [In dealing with students], I'm going to treat those students respectfully here, because that's how I would expect my children to be treated in their school.
Q: Do you have any additional comments?
A: I'm very happy to be here. I feel very fortunate to not only be part of an amazing department here, but an amazing school that has been so welcoming. I can't wait to experience everything for the first time this year […] I look at myself as not just an assistant principal but part of the building, part of the community.