Midnights Album Review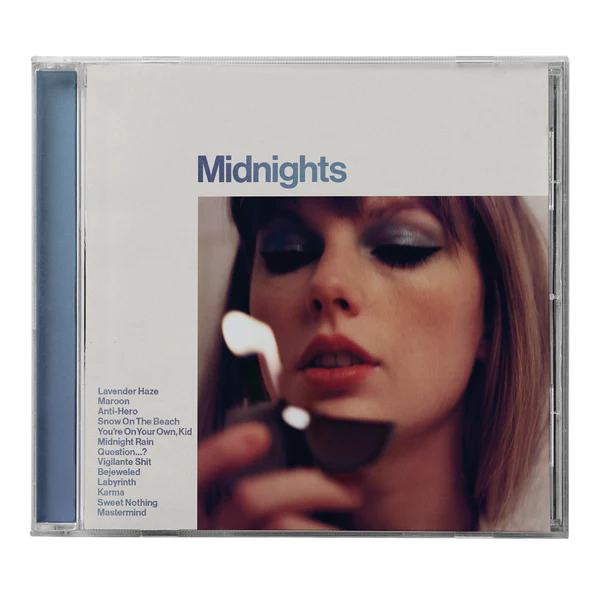 When the clock struck 12 a.m. on Oct. 21, Taylor Swift, singer-songwriter, released her tenth studio album Midnights.
This indie-pop album is about Swift's 13 sleepless nights scattered throughout her life. On her Twitter, Swift shared five things that have kept her up at night and inspired the album, including self-loathing, fantasizing about revenge, wondering what might've been, falling in love, and falling apart. 
Her followers, known as Swifties, got their first look at the album through Swift's TikTok series called Midnight Mayhems With Me, where she released the names of her songs at random over the course of 17 days. In total, the album consists of 13 tracks, with seven bonus tracks released at 3 a.m., labeling them 3am Tracks. In this album, Swift gets vulnerable about her emotions and covers topics such as mental health and negative inner monologues. The third track, "Anti-Hero", dives into topics such as Swift's eating disorder and body image. The song is an honest portrayal of self-hatred, and, as the name implies, is about intrusive thoughts that spur Swift's insecurities.
"Snow On The Beach (feat. Lana Del Rey)" was one of the songs I was anticipating the most as a Taylor Swift and Lana Del Rey fan. Although it was disappointing that Lana didn't get an actual verse on the song,  her background vocals in the chorus were a beautiful addition. The lyrics in the song expressed the feelings of falling in love with someone right when they are falling in love with you, and this fits right into one of the five thoughts? that kept Swift up at night. 
The 3am Tracks reflect on Swift's past relationships in a deep, sensitive way. The bonus tracks "Paris", "The Great War", "Would've Could've Should've", "Glitch", and "High Infidelity" addressed Swift's love life as heavenly, gruesome, heartbreaking, and even deceitful. It's absolutely captivating to see how Swift can take some of the most calamitous moments in her life and turn them into stunning pieces of lyrical art. 
The album ends on a bittersweet note, with "Dear Reader". The song acted almost like a disclaimer – warning fans to take her lyrics with a grain of salt. She cautions listeners not to trust too much of her advice, because she, too, is imperfect. In the chorus, she said, "Never take advice from someone who's falling apart (You should find another)". It is a perfect conclusion to an album that is incredibly retrospective and serves as a sincere reminder that Swift is, at her core, only human.
If you're going through turbulent and challenging times and want to tap into complex emotions, Midnights is sure to become a favorite.