Chambers Singers performs at Ravinia
Students sing alongside Conspirare in tribute to Matthew Shepard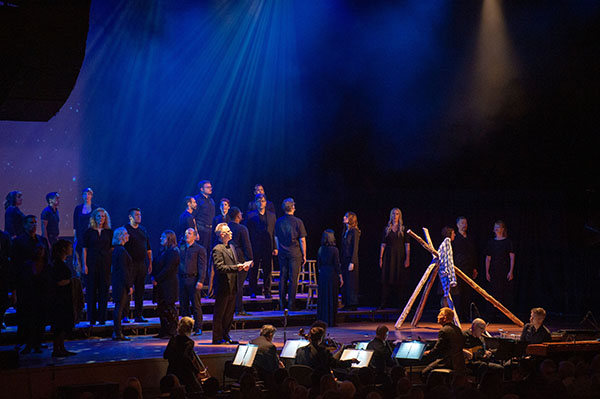 On Thursday Sept. 12, many audience members from the Chicagoland area excitedly held their tickets in the seats of Ravinia's pavilion, as they awaited the performance of Conspirare, a professional choir from Austin, Texas, who had rehearsed a tribute to Matthew Shepard, a young male who in 1998 had been kidnapped, beaten, and left for dead, tied to a fence, simply for identifying as gay. Little did they know that sitting near them were members of the Glenbrook South Chambers Singers who had been invited to sing the song "All Of Us."
Craig Hella Johnson, the choral composer and founder of Conspirare, was inspired to write a Requiem in consideration for Matthew Shepard that was released in 2016. Chambers Singer Aly MacQuarrie defined a Requiem to be a series of songs recognizing someone who has passed away. Matthew Shepard's story struck Johnson on a personal level, Johnson explained, because he himself was a young gay male. It was important for Johnson to spread the message of love combating hate which he did through the song "All Of Us," Leahy remembered.
"We got to watch the [choir] rehearsal before hand, so I got to watch little snippets of the show," Leahy said. "The show itself is very emotional and kind of made me nervous, not because I was nervous to perform, but because the subject matter was so heavy, so relevant to today's society and still could happen."
The Chambers Singers were given the honor to perform Johnson's masterpiece in recognition of Shepard's story, MacQuarrie explained. When she rose with the other students for the song "All Of Us." MacQuarrie described the feeling she had to be empowering.
"We all come together for the last song, which was a very emotional experience,"  MacQuarrie said. "I guess you can say it was a flash mob because the rest of the audience that was there didn't know that was going to happen, we were just regular audience members for the beginning of the concert so it was a surprise for them as well."
Along with MacQuarrie, Leahy also noticed a lot of emotions developing among the audience. The relevance of the heavy topic today made it difficult for any audience member to not give in to the sentimental event, Leahy explained.
"When everyone stood up to sing with the choir on stage it was hard for us almost to sing just because we were so moved emotionally," Leahy said. "As I looked around the audience, I saw people crying and I saw how much it touched all these people and I never really noticed how much of an impact music can have like that."
Robert Shellard, the director of Chamber Singers, said that the choir has participated in multiple service projects aside from their performance at Ravinia, ranging from performing at the Glenbrook Hospital to singing at local elementary schools. However, he mentioned that the performance at Ravinia especially stands out in his memory.
"I thought [performing at Ravinia] was one of the most rewarding things to be a part of," Shellard said. "We not only got the chance to sing with them, but we also did a question and answer with the director of the Conspirare, Craig Hella Johnson, and with Matthew Shepard's parents who have become huge hate crime law activists. That was a really powerful experience, one that I will definitely carry for a long time and I hope the students do too."
In addition, Chambers Singer Brian De Stefano thinks that Johnson's work was a very impactful composition. De Stefano stressed that hatred and violence are very common in today's society and the Requiem for Matthew Shepard is a piece of music that the nation needs to hear.
"I think the big thing about why Chambers is so impactful is that you get to kinda see first hand the power that music has on people," De Stefano said.  "When you're around people who are around music all the time and you see the effect it has on them, it's really incredible and it's what makes music addicting."