Dance show implements new ideas on and off stage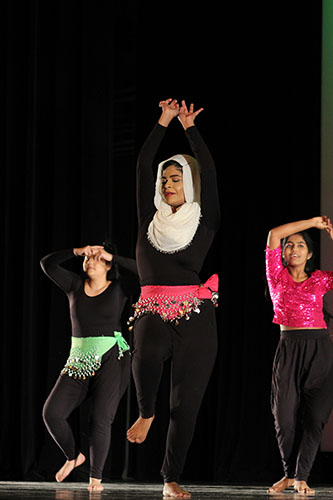 The crowd hushes as the lights dim, signaling the start of South's 2018 dance show. The lights come up again and dancers rush on stage, filled with high energy and bright smiles. As the music begins, they perfectly execute the moves they have practiced for so long now, captivating—as the theme of this year's show, "Captivate", suggests.
Senior Jenna Kim, co-captain of South's De La Cru, explains that, for De La Cru, dance show has always been an event dedicated to simply having fun. This year, however, she believes the extra effort dancers put in will show that the performance is still very important to De La Cru and something they take seriously.
"Last year, dance show was kind of rushed," Kim said. "We had just come off of break, and we didn't have enough time to put together routines that we would be super proud of. But, I think this year it's going to be different because we've had a lot of new creative ideas going on, and our dances have a lot more unexpected elements that people would want to see."
Senior Stephanie Ornduff also believes that the dancers this year have exceeded previous shows in the amount of effort they are putting into their performances. Ornduff took part in this year's dance show not only as an Orchesis officer and dancer, but also as a choreographer.
"I think our choreographers this year have gone above and beyond anything I've ever seen and [have] really worked hard on perfecting their dances and adding a different flare," Ornduff said. "Every dance is so unique and so different."
Senior Sona Kadalimatom is co-captain of Bhangra Beatz, South's Bollywood dance group, and has been a part of the team for four years. This is the second year Bhangra Beatz is performing in the dance show, Kadalimatom says. Taking part in the dance show is a unique way to inform others about Bollywood style dancing, she explains, which she believes is less commonly seen opposed to styles such as hip hop and lyrical.
"When we practice, it's just us in our rooms, and we're doing it by ourselves—we don't even have a teacher watching over us," Kadalimatom said. "When we're under the lights and rehearsing on stage, we get more experience, and it makes us better dancers in general."
This year's director of Orchesis, Math Teacher Michelle Steinberg, has been involved in dance show for two years now and has taken on some extra responsibilities this year as the head director, such as ordering the show's programs and organizing the rehearsal schedule. Rehearsals are the most important part of dance show for Steinberg, as it is during the rehearsals that the dancers truly gain friendships and experience.
"I hope that I have helped choreographers and officers gain leadership skills and shown our new dancers a love of dancing," Steinberg said.
Similarly to Steinberg, senior Emma Isaacs takes part in the work typically hidden from audiences. Isaacs has been a part of South's stage crew since her freshman year and was the stage manager for this year's dance show. Stage crew is responsible for getting the show ready from behind the scenes, Isaacs explains. Dance show is different than other shows stage crew helps with, Isaacs says, for the upperclassmen in stage crew are completely in charge of the abstract lighting design, a task normally given to their supervisor.
"It's really fun because it's people you know and care about, and … everyone feels more professional because it feels like your voice is being heard no matter what," Isaacs said.
At the end of the show, a screen came down and displayed pictures and videos from rehearsals, giving the audience a glimpse of the hard work that goes on behind the scenes of the show. The excited gasps, cheering and smiles on the faces of each audience member during the show were proof that the dedication put into this year's dance show made it truly captivating.