Louder than a Bomb showcases spoken word poetry, furthers communication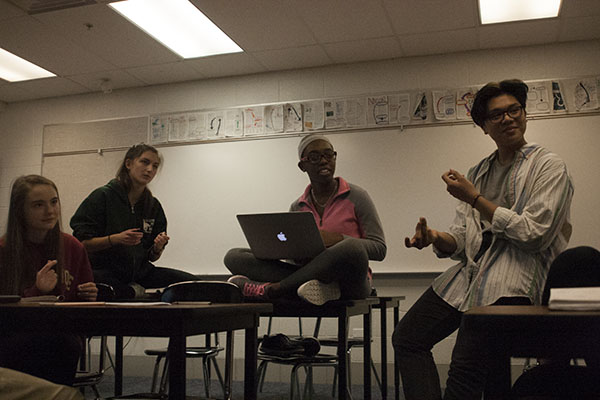 Senior Grace Rodriguez clears her throat. Then, she begins  to speak. Immediately, each word is followed by a ripple of snaps, following the ebb and flow of her spoken word poetry. For Rodriguez, co-captain of the Louder than a Bomb Club at South, this is part of the preparation for Louder than a Bomb, the world's largest youth poetry festival in the world.
According to Hillary Kane, English teacher/club co-sponsor, over 1,000 students across the Chicagoland area participate annually in the Louder than a Bomb competition, hosted by an organization called Young Chicago Authors. Kane says that, although the final round of the competition will take place at the Auditorium Theatre in Chicago on March 18, local high schools will hold preliminary rounds in the weeks preceding. Although South's Louder than a Bomb club was formed this year, Kane says she has attended the event in the past.
"The first time I went and saw Louder than a Bomb, I was in tears," Kane said. "It is the most amazing experience, to see thousands of high school-age students all speaking their truth and cheering each other on. People are so excited that someone would get up to a microphone and speak their truth in a format of poetry, [and] it's incredible."
According to Rodriguez, she started practicing spoken word poetry this past summer. Rodriguez says that what she loves most about spoken word poetry is that the format elicits responses from the audience, which distinguishes itself from written poetry.
"[Spoken word poetry is] like a conversation," Rodriguez said. "Even though you're the one writing the lines and expressing these feelings, [because of] the communication back from the audience like snaps or yelling from the crowd, it becomes a conversation. Everyone's adding to the artwork, and it's not just an individual piece."
Freshman Justin Manalang says that he uses spoken word poetry similarly to how others would use a journal, and that his poetry mostly centers around his identity, including his nationality and sexuality. According to Manalang, his favorite poem was written in his English class.
"[My favorite poem] is about how, one time over the summer, I was called a f****t on the street, and how that made me feel, but how I've come back from that and how I'm stronger now," Manalang said. "When I was writing that poem, I had no expectations or anything. I was like, 'This is probably just going to be a really mediocre poem,' but then it ended up being something that I loved."
Similarly to Manalang, Rodriguez believes that spoken word poetry is special to her because it provides for her a means of expressing herself to the public. According to Rodriguez, one of her most memorable moments regarding spoken word poetry occurred in a practice competition that was meant to resemble a preliminary round of Louder than a Bomb.
"I've never considered taking writing as a performance that I can show the outside world," Rodriguez said. "I could go out in the world and people [would] recognize my writing. [For example], I've gone to a competition [and] someone from the open mic recognized me [and my poetry]. It was insane, I never thought I could make an impact on anyone like that."
According to Scott Glass, English teacher/club co-sponsor, he recently attended a practice Louder than a Bomb preliminary round with his students. Glass says that at the event, he noticed that one of the goals behind Louder than a Bomb is to allow students to meet others from different high schools in the region and promote unity throughout the entire Chicagoland area.
"[What] Young Chicago Authors is trying to do is create this community and break these barriers [between different parts of the city]," Glass said. "So, one of their other missions is to not just create community, but [to] build a community where you actually can interact with people that you normally don't interact with, and it's this beautiful thing."