De La Cru reflects on team, unique beginnings in dance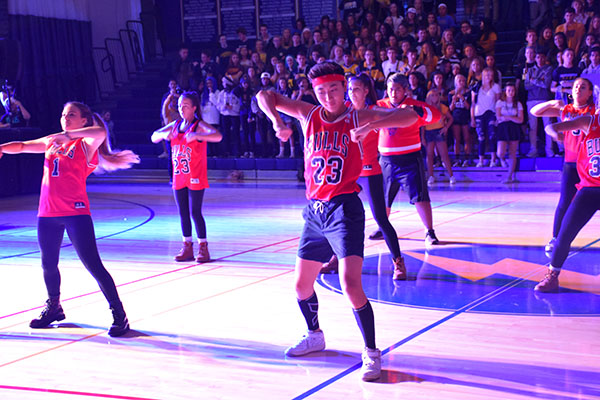 De La who? That's right, it's De La Cru. This season, De La Cru is starting fresh with a new team as well as a new style. Despite these new changes, the team still recalls where they came from, and how they got to the point they are at now.
Co-captain Chloe McKerr says her earliest memory of dancing was making up dances with her friends in her basement. McKerr said she began by taking classes and later began competing on a dance team. Sophomore year, McKerr says, after trying Poms, she wanted to go for something new.
"I wanted to do something that had more self expression," McKerr said. "I was able to come up with my own moves and really express my own style instead of looking very uniform."
On the other hand, co-captain Eden Kim never took dance classes, but learned K-pop dances as his mom watched them on the television when he was younger.
"I wish my parents spent the money and time and put me in [dance classes] instead of tennis," Kim said. "They didn't really see [dancing] as a priority, so it just was something I was developing by myself through videos online, or in my basement in the mirror."
Similarly, senior member Leyla Silic, who has been on the team for four years and says dance has helped define her since she was ten years old. Silic says her mother encouraged her to take her first formal class and she has been dancing ever since. Silic finds that what differentiates De La Cru from any other club at school is their bond.
"Nobody has cliquey groups," Silic said.  "Everyone is there for the same reason, and everyone is there to perform for the school and have a great time."
McKerr and Kim say they have found a difference between being a dancer and a captain on De La Cru. Having to take responsibility for a whole group of people and taking action has been the biggest change, according to McKerr and Kim.
"It's just different now … it's really nice being able to have a vision and apply it to the entire team," McKerr said. "Now we're just trying to be more authentic and come up with new ideas and put more thought behind our moves instead of your basic hip hop pop-lock type of thing."
Sophomore Juliana Abraham recognizes this change in the choreography to be positive. Furthermore, Abraham says that the new moves McKerr and Kim have been coming up with have been helping the team to improve as a unit.
"I have noticed a really big difference in the style of dancing, I feel like [we are doing] bigger, more complex moves so that we can get really precise with our dancing," Abraham said. "I feel like it's a nice challenge, and I know everyone on De La Cru likes a challenge."
Despite both being drawn to De La Cru, the captains found their reasons for joining were different. Kim says he found it to be an opportunity to learn more and showcase all that he had to offer. McKerr had been admiring the team from a distance and wanted to get it on the action herself.
"I remember freshman year just seeing De La Cru perform at all the assemblies and pep rallies and I loved their performances," McKerr said. "Whenever I watched them I was just like, 'I want to be doing that.'"
Similarly, Abraham says the group is comfortable enough with each other to offer constructive criticism as well as compliments. According to Abraham, they are all trying to improve their dancing as a group.
"I feel like we're more of a family, and we're really close to each other," Abraham said. "I feel [that] we share a common interest, which is dance, and [that] the people are nice, loving and we all just work really well together."