Adams searches for balance between music and athletics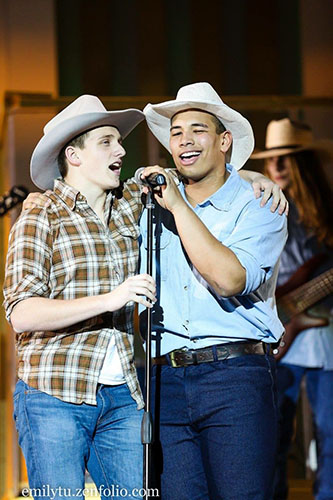 Similar to how Zac Efron's character, Troy Bolton from High School Musical can be seen shooting hoops on the court with fellow Wildcats, senior Zach Adams can be seen defending South's goal line on the turf. When Troy sings with Gabriella on the main stage under the watchful eyes of his peers on the basketball team, Zach can be seen singing in the Variety Show for the football act. The catch here is that the fake character Zac Efron plays in the movie inspired the real Zach Adams.
"High School Musical was a pretty big thing as I was growing up, so [I thought] if Zac Efron can do [both], why not me?" Adams said.
Adams says that he is involved in choir and fine arts activities, specifically in Master Singers, Variety Show, and extracurricular groups Chambers and Nine, while also being on the varsity football team for his third season. According to Adams, his parents were the main source of inspiration for joining musical groups as well playing for the football team.
"What inspired me to participate in music and sports was mainly support from my parents," Adams said. "At a young age, my mom always told me that if I worked hard enough, I could do whatever I wanted."
Adams explains that he is still trying to find an equilibrium between the two, and that doing his homework requires some time management.
"The balance is kind of nonexistent; I just go to football practice and usually the second it ends, [I] run off to shower and go to choir rehearsal," Adams said. "Usually, I just hope I don't have too much homework when I get home."
Though Adams struggles to find a balance between football and music, he says that they compliment each other in the meanwhile.     
"Football helps me out with my strength for music; since I'm constantly crafting my body, I can perform lifts well for V Show, or have good balance while dancing," Adams said. "Music helps me be more creative in football and, in a way, keeps me calm whenever I get into a zone during a game or practice – there's always a song in my head."
Andrew Toniolo, co-choir director and director of Nine and Master Singers, remembers meeting Adams when he was a freshman. Toniolo, like Adams, was also a football player involved in choir when he was in high school, and he says that Adams is reflective of his own high school self.
"I was excited about the fact that he was a football player in choir," Toniolo said. "I saw a little bit of my past and it made me feel nostalgic. Not a lot of guys participate in both of those activities."
Since being involved in both activities, Toniolo says that Adams brings his strengths from one extracurricular to another and that these strengths help Adams develop better leadership skills.
"Through football, he's developed a lot of leadership skills," Toniolo said. "People gravitate towards him because they sense the stability he gives others."
Robert Shellard, co-choir director and director of Chambers, says that Adams is a hardworking team player who is ready to help others succeed and has the potential to succeed in any area due to his ability to work hard.
"I think he has the right mindset to succeed in whatever area he puts his mind to," Shellard said.
Coach David Schoenwetter, head of the varsity football team, appreciates Adams' involvement in music and says that Adams knows how to lighten the mood whenever he feels the team is too tense. He also mentions that Adams knows how to balance between motivating others and having fun, all while being a very tough offensive and defensive lineman.
"I went to a liberal arts college, so I understand the value in the fine arts," Schoenwetter said. "I've always appreciated the fact that he's followed his loves in life and has been persistent in making time for fine arts and football."
Adams concludes that both sports and fine arts are foreseen in his future.
"I want to play football in college, be able to sing in college, and just keep living the lifestyle I've created for myself here in high school," Adams said. "It truly has been the best few years of my life and to just give it up forever doesn't seem right."