Scat That provides alternate jazz ensemble option for GBS singers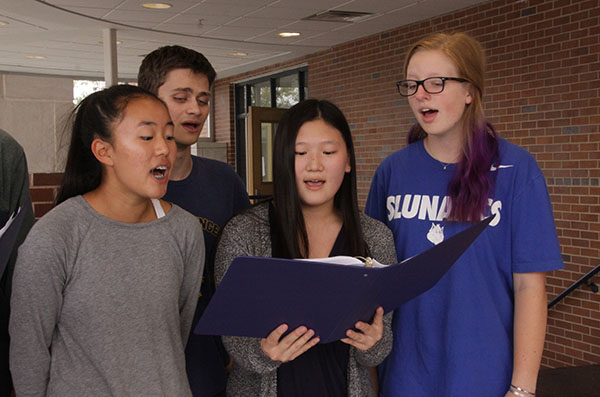 From snapping to boo bopping, South's vocal jazz ensemble, Scat That, brings the musical art form of jazz to life. The jazz ensemble was formed in 2008 by the former co-choir Director, Stevie Marks. The current co-choir Director, Andrew Toniolo, finds vocal jazz to be relatively uncommon around Illinois, making Scat That a more unique high school group.
"My goal [for the group] would be to keep jazz alive," Toniolo said. "It tends to be a little bit more [of an] unfamiliar genre to students, therefore [making it] a little bit more difficult and challenging. [The challenge itself] is taking kids from a basic level [of jazz] to an advanced level in their time here."
Toniolo also says he finds jazz important as it is a truly American art form. Although it is often performed instrumentally, Toniolo says South tries to emphasize the vocal version of jazz, made popular by famous singers like Louis Armstrong and Ella Fitzgerald.
Senior Jessie Hudson, two-year Scat That member, states that she hadn't believed she would be interested in Scat That; however, after their first rehearsal she found she had enjoyed her experience. Hudson also adds that familiarizing South with jazz has become one of the group's main goals this year.
"[We would like] to spread local jazz and get people interested, because it's not at all common," Hudson said. "It's a very new topic and a lot of people are sort of like, 'Oh, what is that?'"
Toniolo also states that the music performed by Scat That is very stylistic and contains elements that may not have been seen before. Hudson adds that this makes the music more approachable in her opinion.
"Mr. Toniolo makes it a different extracurricular," Hudson said. "Especially for jazz, [as] he mixes genres a bit so [the music we perform is] not super 'standard' jazz, it's like, 'Okay young people can listen to this too.'"