Boron takes on role as co-band director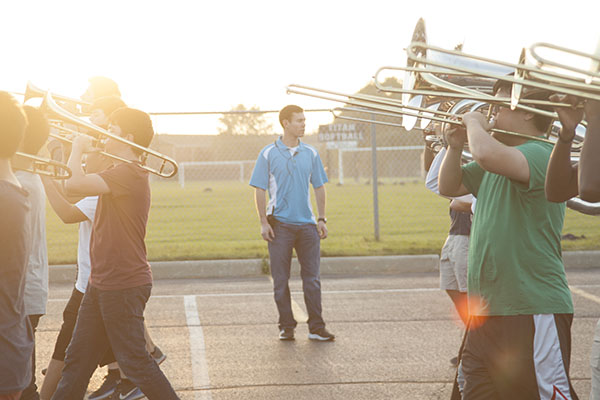 Band performances can create a lasting impression on both the musicians and the audience, but behind every great show, there are people working hard to make sure that it goes off without a hitch.
One of those hard workers is Brian Boron, the new band director at South. Greg Wojcik, the band director for the past 38 years, retired last year, leaving the door to the band office open for Boron. According to Boron, his interest in music started at a young age, and his desire to play continued for his rest of the life.
"When I was two I was banging on pots and pans with wooden spoons, so [my interest in music] just skyrocketed from there," Boron said. "My brother started marching band when I was around ten. That was my first intro to band and all the stuff that is possible through it."
Boron explains that choosing a job as a band director was unsurprisingly easy, mainly due to his love for music. He and the rest of his family attended Glenbrook North, which was another reason why he chose a job in the district.
"[Becoming a band director] seemed like the right fit for me," Boron said. "I went to Glenbrook North, so I knew how highly regarded the Glenbrooks are. When the job opened up here I sent in my application ASAP."
Although this is his first official year as a band director, Boron says he has had prior experience working with South's band as a pit percussion instructor last year. According to co-band Director Aaron Wojcik, Boron's former experience with the Glenbrooks has played a major role in enhancing his teaching this year.
"As a [graduate] of Glenbrook North, [Boron] definitely understands the culture of the school system here, specifically at Glenbrook South," Wojcik said. "He's got a better understanding than anybody else walking in about what the kids expect, and what the parents expect and what the expectations are in this district, as far as excellence and performance."
Megan Heublein, senior drum major, expresses positive feelings towards Boron, despite his short time working with South's band. According to Heublein, Boron's additional experience with percussion instruments is helpful in his instruction.
"He is really insightful with his music," Heublein said. "Being a percussionist, it's really cool to have someone who knows about that who can help with our percussionists instead of two wind instructors. It's a really nice balance."
Looking over the year thus far, Wojcik believes that Boron's presence, in addition to his past experience with the  Glenbrooks, has enabled a smooth transition for South's band.
"Mr. Boron is a very bright, young music educator, [and] as he is joining the program here he's bringing some great ideas and a good deal of experience," Wojcik said. "He's a Glenbrook North grad, so he understands what happens around here, and he's fitting in very nicely."